Wow! This week really flew by. I hope you've enjoyed Wu Haus Smoothie Week and have some new recipes to add to your morning routine. For my last trick, this zucchini-based Berry Green Cacao Smoothie Bowl. I especially love this one because it's packed with 2 of my favorite things: greens and cacao. This recipe airs on the side of not-very-sweet, so there is an option to add 2-3 medjool dates. I personally don't add the dates, but I know everyone likes a different level of sweetness.
Raw cacao is a very special super food. It is chocolate in its truest, highest form. Packed with antioxidants, cacao contains a wealth of magnesium and iron. Cacao also contains the neurotransmitters serotonin, tryptophan and dopamine that stimulate brain activity and are vital in regulating mood. For this reason, it is said to increase vitality, focus and sensitivity. In ancient times, the Mayan's used cacao for ceremonial and medicinal purposes. I was lucky enough to take part in a cacao ceremony guided by Paola Garcia at Spiritweavers Gathering last summer. I experienced firsthand its power to facilitate spiritual openings, and especially its ability to open the heart. Cacao really exemplifies the phrase 'food as medicine.' I eat or drink it daily.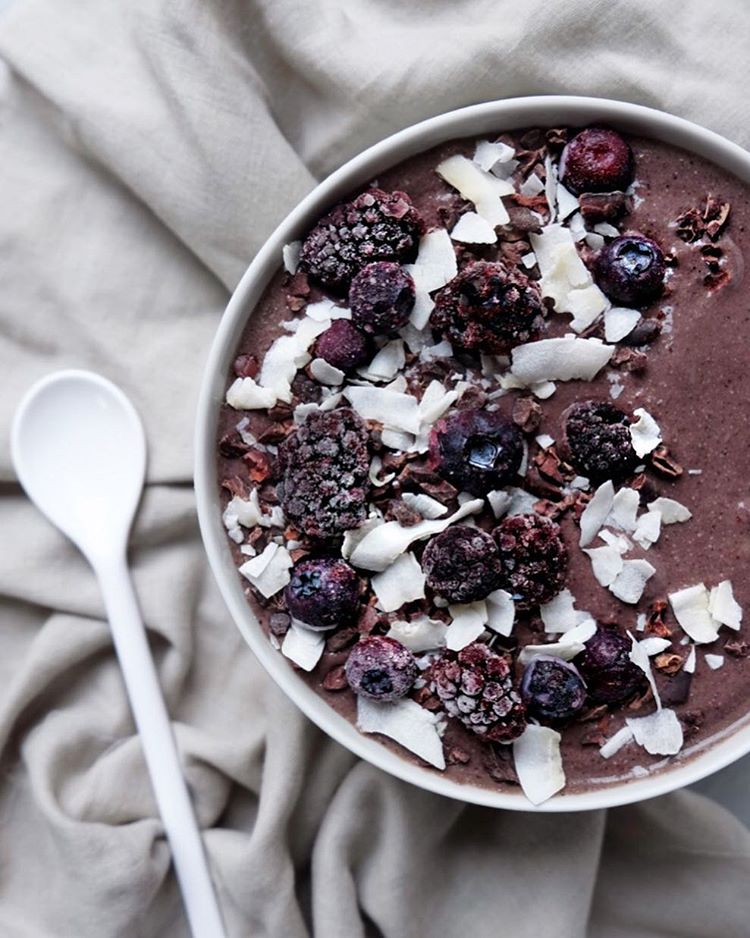 Berry Green Cacao Smoothie Bowl
[Serves 2]
2 cups lightly steamed zucchini, or about 2 zucchinis sliced into 1″ thick rounds (Feel free to steam then freeze the zucchini if you'd like)
1 cup frozen berries, mix of blue and black or one or the other
1 cup spinach or kale, chopped and tightly packed
2 Tablespoons chia seeds
1 Tablespoon raw cacao powder
1½ Tablespoon nut butter (I used raw cashew)
1 cup nut mylk
2-3 medjool dates (optional)
To garnish: Raw cacao nibs, extra berries and shredded coconut
In a high-speed blender, blend all ingredients on medium until smooth.
Split the contents of the blender into 2 bowls. Garnish with more berries, cacao nibs and shredded coconut.