[GIVEAWAY IS NOW CLOSED!!!! Thank you to everyone who entered, and congrats to Kelly Rose Heath for winning!]
I'm SO excited to be partnering with one of my favorite people on this post and giveaway. Max of Roots & Crowns is literally one of the kindest, most warm-hearted people I know. She's wildly talented and her line of herbal apothecary goods is one of my absolute favorites. We teamed up this holiday season to bring you all an amazing Douglas Fir Chai recipe, a DIY Immune-Supporting Bath Salt recipe and an AMAZING giveaway. One lucky person will win the Ultimate Winter Self-Care Kit that includes:
TO ENTER:
Contest closes on Tuesday, December 12, 2017 at 11:59PM PST. Winner will be chosen and announced on Wednesday, December 13, 2017.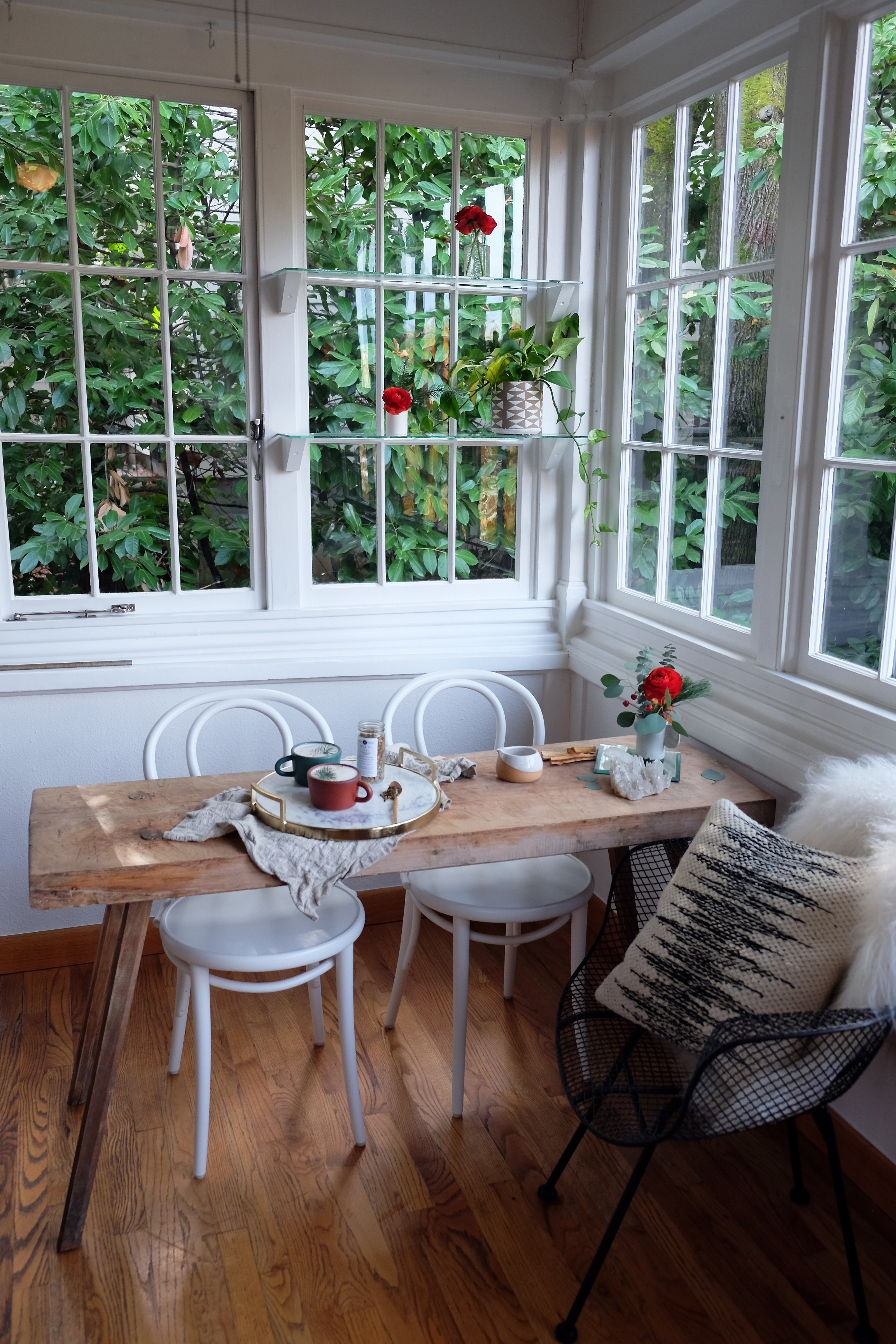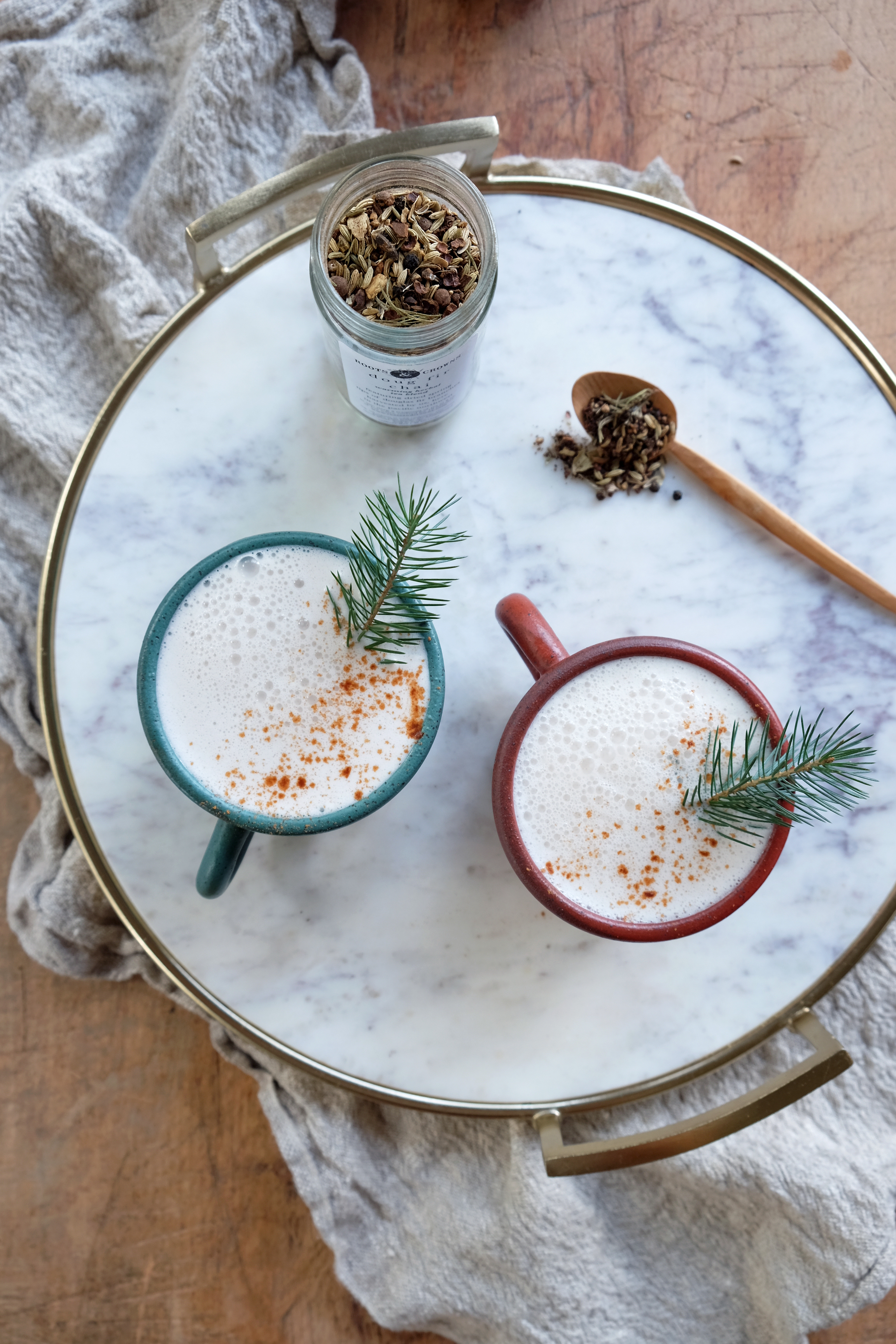 Adaptogenic Douglas Fir Chai
[Makes 2 16 oz chai lattes]
32 oz (4 cups) of hot water
1 1/2 Tablespoons Roots & Crowns Doug Fir Chai
3 Tablespoons coconut butter
1 Tablespoon tocos
1 teaspoon reishi
1/2 teaspoon ashwagandha
Optional: 1 teaspoon raw honey
Using a tea strainer and jar, or just a large mason jar and mesh sieve, steep chai covered for 10 minutes. [Covering while steeping allows for a deeper, richer flavor.] Strain out tea and reserve liquid.
In a high-speed blender, blend chai liquid and all other ingredients on high for 1-2 minutes.
Pour into mugs, sprinkle with cinnamon and enjoy!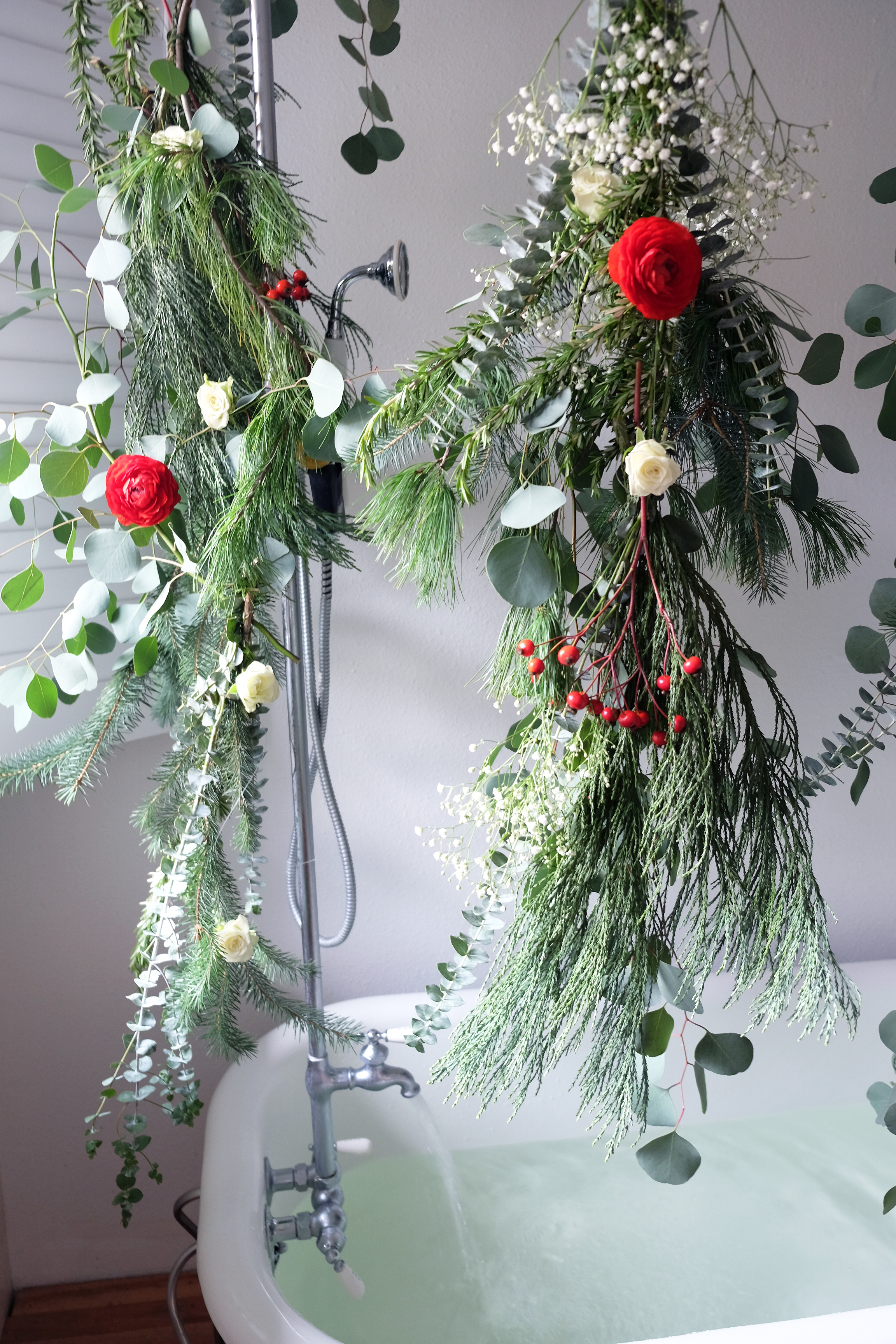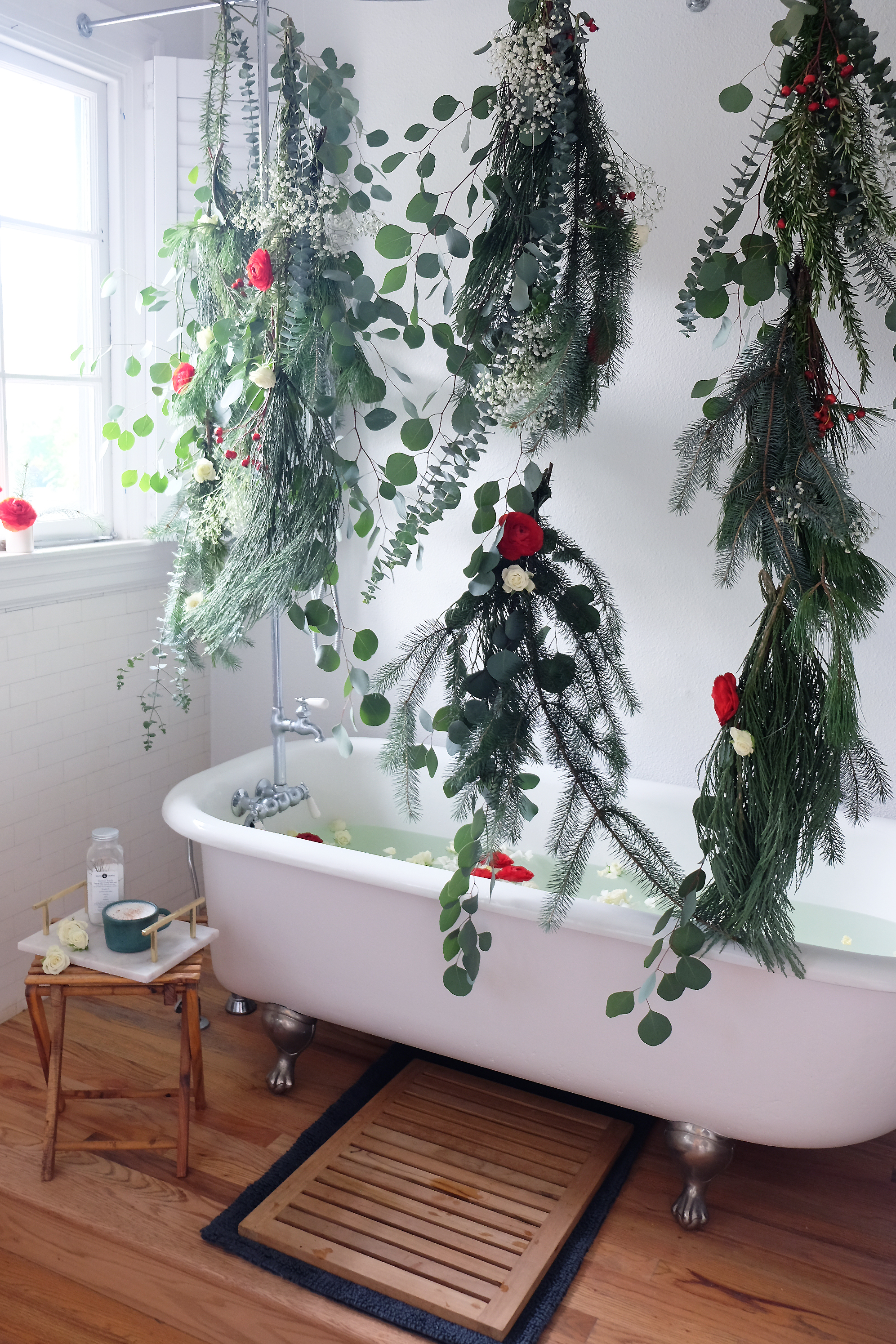 From Max:
Winter is the season of going inward. Of short days and long nights. It's a time when comfort and warmth are necessary elements of self-care. Here are some of my favorite winter self-care tips:
1.) Bring the Heat: Whether it's fires in the fireplace, lighting lots of candles, warm baths, going to the sauna, drinking warm beverages, or cooking with warmer/spicier ingredients – follow your body's wisdom when it comes to telling you what you can do to nurture the warmth during the cold season.
2.) Mind Your Body: It's easy to become a little more physically stagnant during the winter months because there's more of a lethargic energy surrounding daylight and the liveliness of the natural world, but keep moving. Bundle up and get some fresh air. Sweat it out.
3.) But Also, Embrace Rest: Winter is definitely a time for being more introspective and reflective. It's ok not to feel as social and extend yourself as much as you would do in the lighter months. Just as we see the animals getting quieter and going into hibernation, our spirits crave that slower living during this time as well!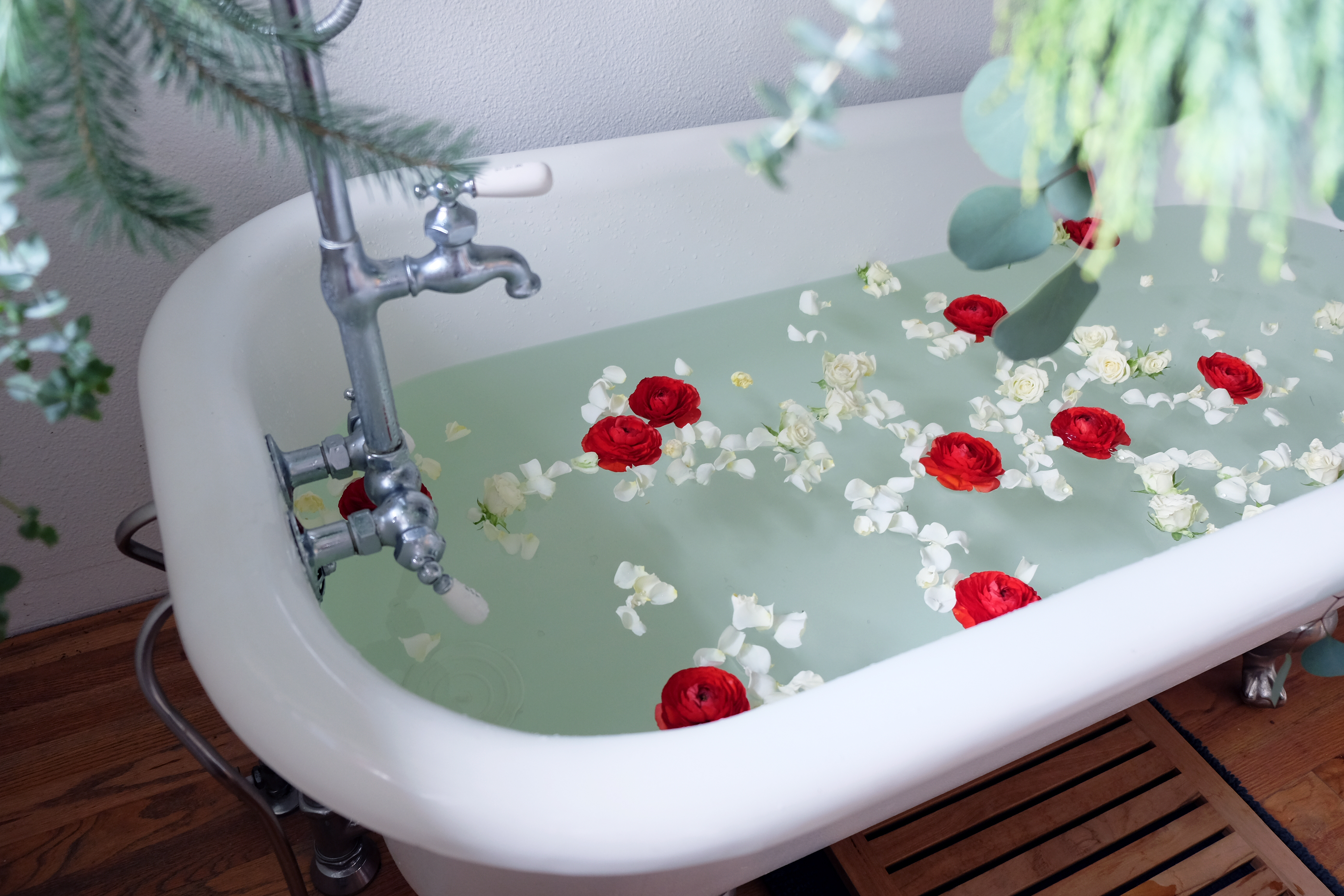 Baths with mineral salts are an age-old remedy for soothing sore muscles, healing skin conditions, improving circulation, and speeding up recovery from illnesses. This bath salt recipe is extra warming and immune-supporting. The oils included will help uplift the spirits, open airways for deeper breathing, and also add an anti-microbial, anti-viral aspect of protection for you against seasonal germs.
DIY Warming, Immune-Supporting Bath Salts
[Makes an 8 oz jar]
4 oz epsom salts
4 oz Dead Sea salts*
Essential oils of Rosemary, Eucalyptus, Clove, Lemon
1/2 Tablespoon oil (such as Jojoba, Coconut or Sweet Almond)
8 oz glass jar or metal tin
In a large mixing bowl, add the two different salts.
In a separate small bowl, mix jojoba, coconut or sweet almond oil, then add one drop at a time of the essential oils as follows: 2 drops Eucalyptus, 1 drop Rosemary, 1 drop Clove, 1 drop lemon. Mix well.
Combine oils with salts and mix well so that the oils disperse appropriately.
[Note: I recommend a full 8 oz. of salts for a nice bath, and even sometimes indulge in a double recipe with 16 oz. of salts for an even more luxurious bath. When running the bath, pour the salts through the running water and let them dissolve.]
*Dead Sea salts have over 21 minerals in them and are extra yummy for your skin, but if you can't find Dead Sea salts, you can use 8 oz of epsom salts instead.