Creamy walnut mylk! Yum! I've been wanting to make and share this recipe for a while now, and I thought with Valentine's Day right around the corner, this would be the perfect time. These mylks are abundant in aphrodisiac super foods: cacao, maca, raw honey, vanilla and cinnamon. Plus, walnuts are high in the amino acid tryptophan, which helps make serotonin. The neurotransmitter serotonin helps regulate the mood, prevent depression and make us feel happy. Walnuts are also an excellent source of omega 3 EFA's (essential fatty acids), which are so important for brain health.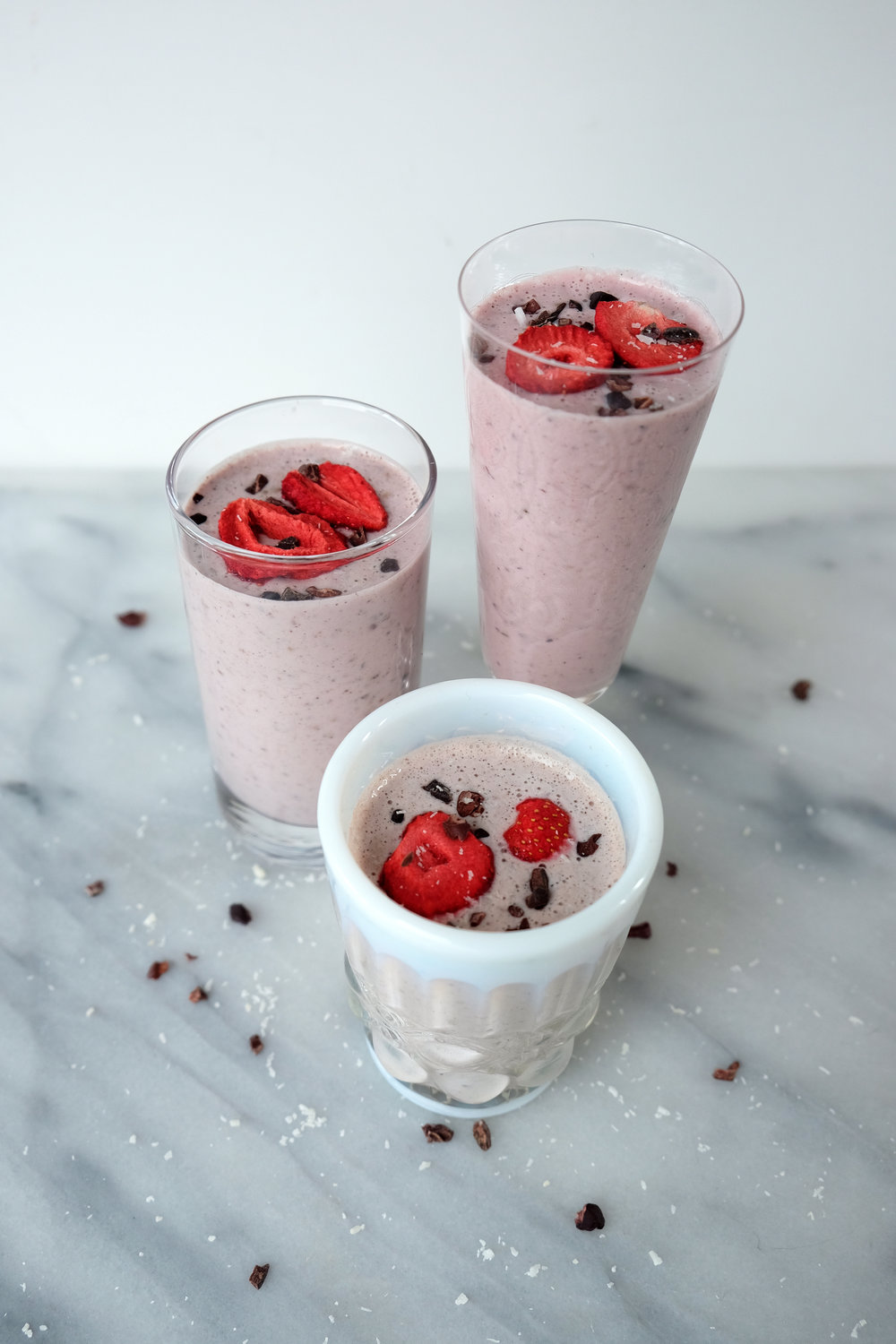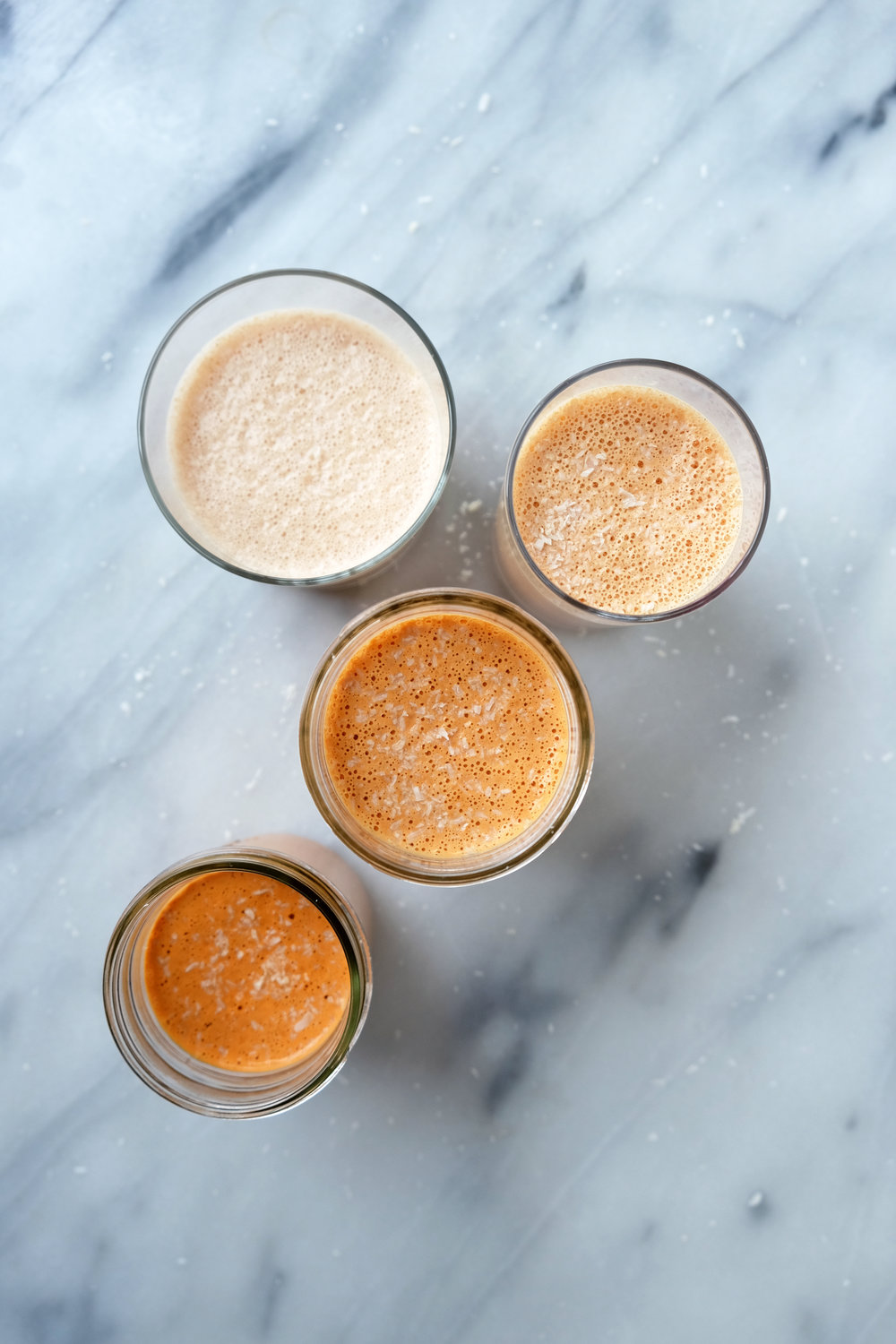 I absolutely love making homemade nut mylks. I usually make 1-2 batches each week that I can customize with different add-ins each day. I made this recipe in my new Vitamix Ascent A2500 that has a built-in digital timer making recipe development super easy. I typically use my Vitamix 2-3 times everyday. If you've been considering purchasing one, I really can't encourage you enough. It will honestly change your life. If you're looking for great filtration bags, Vitamix makes these ones that I love. A cheesecloth also works just fine. I hope you enjoy this Valentine's Day and show yourself some much-deserved love.
[This post was created in partnership with Vitamix. All thoughts and opinions are my own.]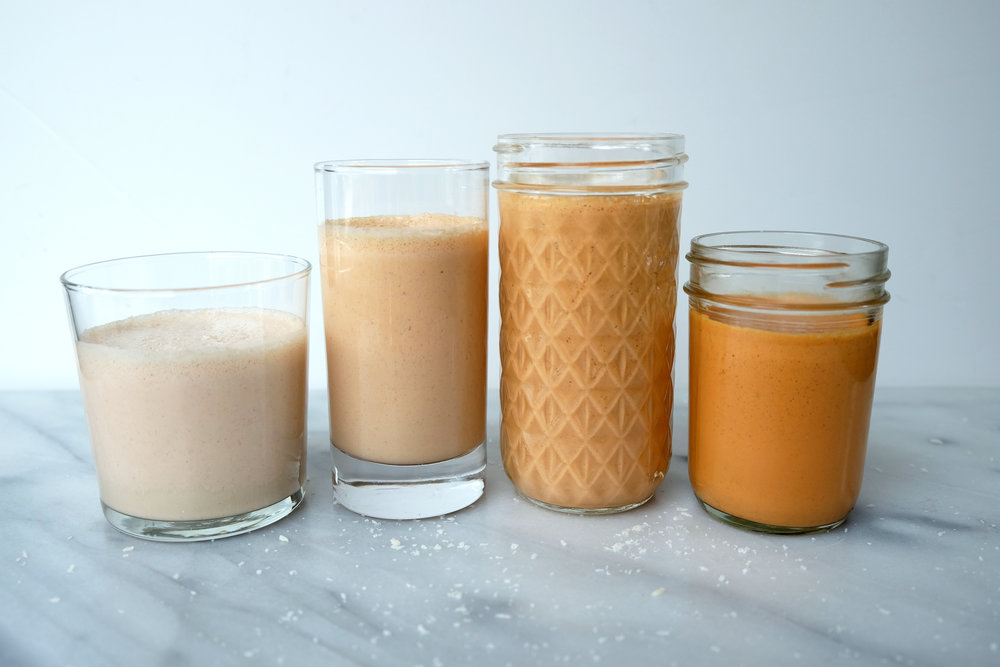 Aphrodisiac Walnut Mylk: Goji + Maca // Strawberry + Cacao Nib
[Makes 8 cups]
For the walnut mylk base:
3 cups raw walnuts, soaked in the refrigerator overnight
8 cups filtered water
1/2 teaspoon vanilla bean powder
1/2 teaspoon cinnamon
1/4 teaspoon pink salt
For the goji + maca version:
2 heaping Tablespoons goji berries, soaked in hot water until plump
1/2 teaspoon maca
Optional: 1-2 teaspoons raw honey
For the strawberry + cacao nib version:
5-6 fresh or frozen strawberries
2 Tablespoons raw cacao nibs
Blend all ingredients for the base in high-speed blender for 1-2 minutes until creamy. Strain half of the walnut mylk through a filtration bag or cheese cloth into a wide-mouthed jar and set aside.
Add the additional ingredients for the goji + maca version into the blender. Blend for another 45 seconds until creamy and well combined. Strain through a filtration bag or cheese cloth. Allow to chill in the refrigerator for an hour before enjoying.
Pour the other already-strained half of the walnut mylk base back into the blender. Add the 5-6 strawberries and blend for about 45 seconds or until creamy and well combined. Add the cacao nibs and blend for an additional 8-10 seconds. Pour into a wide-mouthed jar, and allow to chill in the refrigerator for an hour before enjoying.
Walnut mylk will keep in the refrigerator for 3-5 days.
*If you want to make various color shades like I did for the pictures in this post, just slowly add the goji berries and strawberries, pouring part of the mylk into separate containers once you've reached desired color. This is absolutely not necessary. I did it purely for visual interest.