I've been collecting crystal gemstones since I was 5 years old. Some I still have and others I've lost along the way. I started collecting them as a child mostly for aesthetic reasons, but as my collection has grown it's been powerful to connect with these crystals' different energies and experience their healing powers. I'm by no means an expert, but I'm happy to share this post with you to hopefully inspire you to work with crystals or start your own collection. Here are a few ways I like to use them:
Holding a crystal in my hand during my meditation practice
Carrying a crystal or 3 with me when I'm traveling
To create sacred spaces throughout my haus
Using them directly on my body as they correlate with the chakras
As tools when I'm setting monthly intentions at the new moon
Every month I like to cleanse my crystals or "recharge" them in the light of the full moon. This allows them to return to their full frequency after being used all month for various purposes. Even if you don't believe in the vibrational and healing powers of crystals, they are undeniably beautiful to look at and promote a sense of peace and tranquility. The list below is just a very small sampling of crystals. There are so many more out there. This book is a great resource for looking up crystals and their meanings, and this book is great for ways to use your crystals.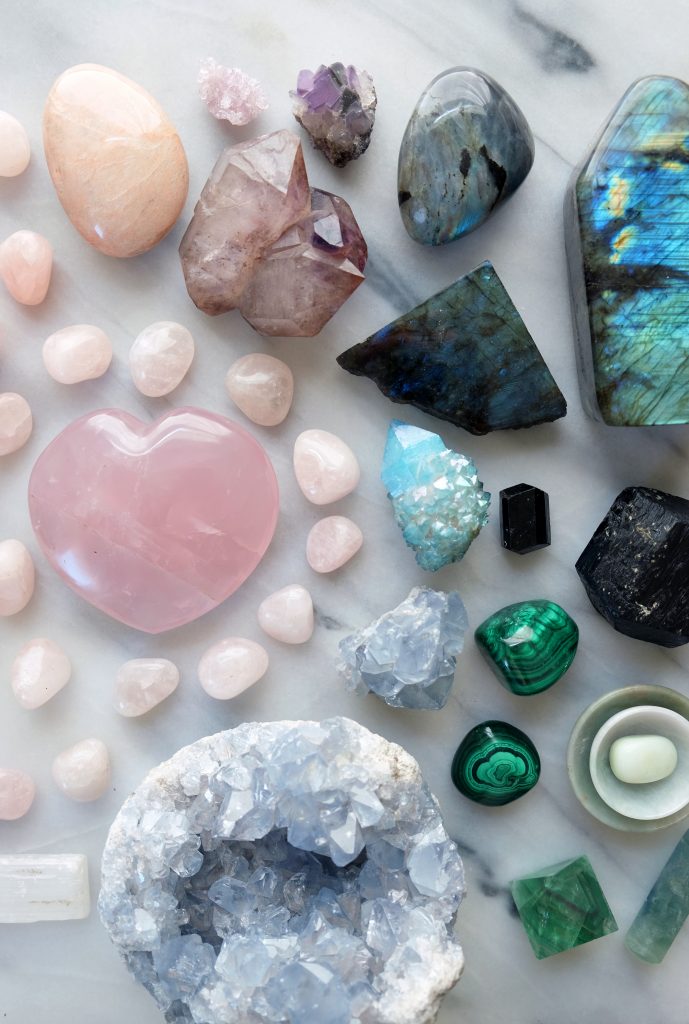 Clear quartz
Color: Colorless
Corresponding chakra: All, but particularly the Crown
Benefits and healing properties: Aids in spiritual growth, brings balance, and promotes and restores well-being, stimulates the immune system, promotes energy flow and clarity of thinking, and is a powerful healing stone for any condition
Zodiac: All
Rose quartz
Color: Pale pink to red rose
Corresponding chakra: Heart, Solar Plexus, Sacral
Benefits and healing properties: Grounds, soothes, manifests unconditional love and forgiveness, stabilizes blood circulation and improves blood flow
Zodiac: Taurus, Libra
Celestite
Color: Sky blue, white, colorless, brown, yellow, orange, and red
Corresponding chakra: Throat, Third Eye, Crown
Benefits and healing properties: An excellent healing stone, helps eliminate toxins, supports clear vision and communication, associated with divine and angelic energies
Zodiac: Gemini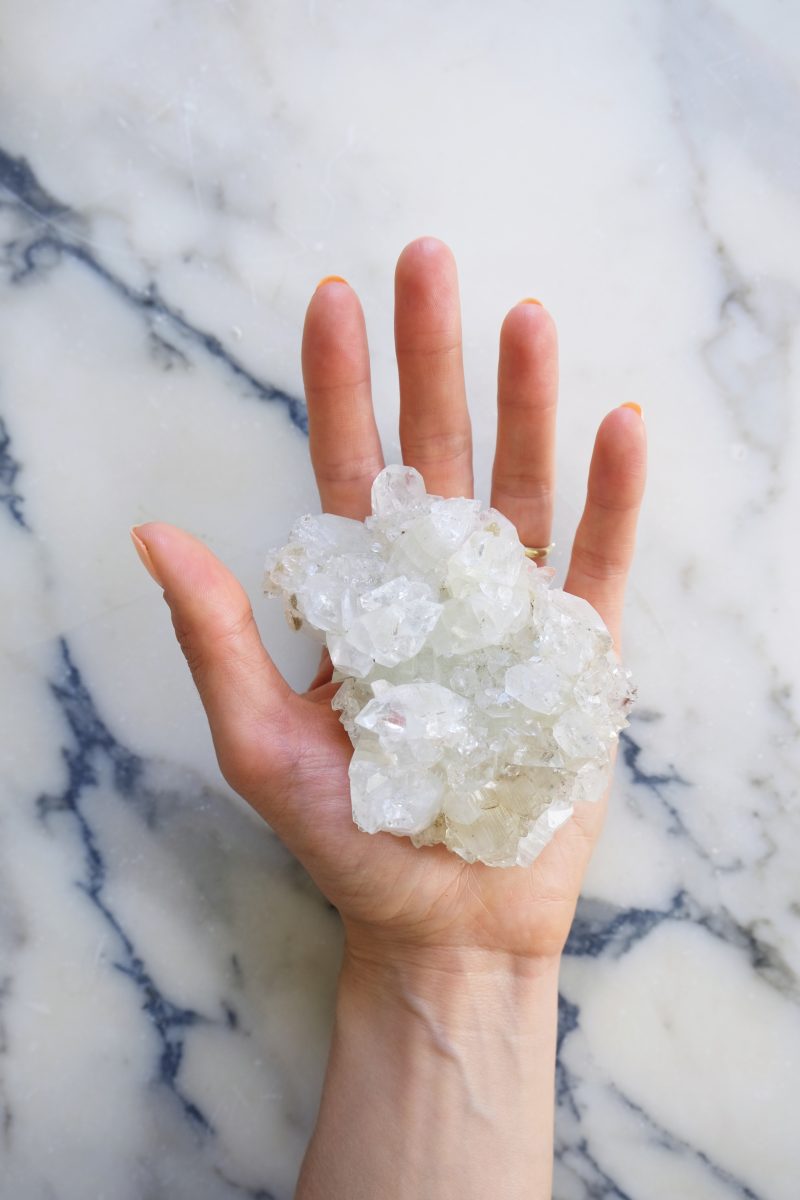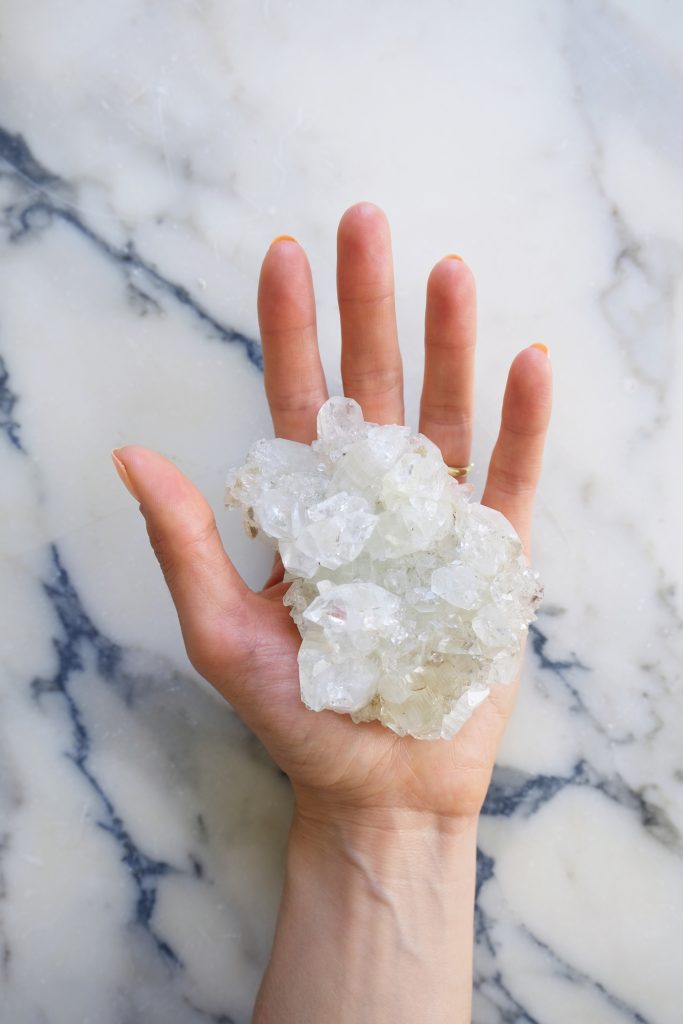 Citrine
Color: Yellow-brown
Corresponding chakra: Solar Plexus, Root
Benefits and healing properties: Revitalizing and cleansing; it provides happiness, courage, hope, and warmth. Helps the digestive organs and the heart, reduces infection, aids in detoxing the physical, emotional and mental bodies, and is helpful for menstrual symptoms
Zodiac: Gemini, Aries, Leo, Libra
Apophyllite
Color: Colorless, white, gray, green, brown
Corresponding chakras: Third Eye, Crown
Benefits and healing properties: Helps release suppressed emotions, assists with overcoming anxiety, worries, and fears, allows for a deeper state of relaxation
Zodiac: Gemini, Libra, Pisces
Black tourmaline
Color: Black
Corresponding chakras: Throat, Third Eye/Brow, Root, Heart
Benefits and healing properties: Cleanses and purifies, enhances spiritual energy flow, clears and balances all chakras, promotes self-confidence, reduces fear, protects against negative energies, strengthens the immune system, provides pain relief to the spinal column
Zodiac: Capricorn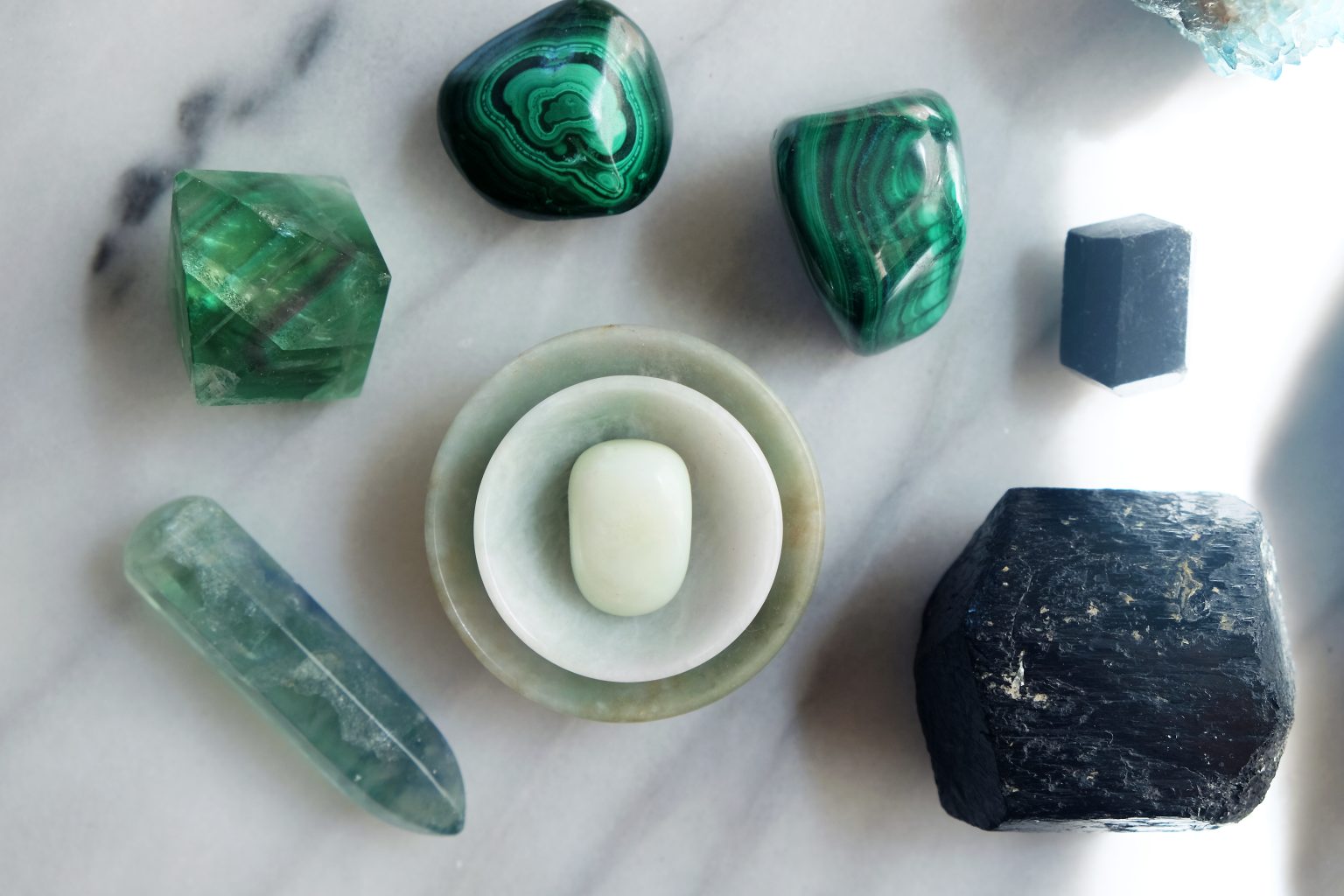 Amethyst
Color: Pale lavender to deep violet
Corresponding chakras: Third Eye, Crown
Benefits and healing properties: Enhances spiritual awareness, peacefulness, and contentment, wards off negativity, helps to heal during times of grief, relieves tension headaches, eye strain and skin irritations, good stone to travel with
Zodiac: Pisces, Virgo, Aquarius, Capricorn
Pyrite
Color: Yellowish grey to grey
Corresponding chakras: Solar Plexus
Benefits and healing properties: Shields against negative energy, keeps out negative vibrations at the physical level, can be used in repairing bones and cells, reduces inflammation
Zodiac: Leo
Peach Moonstone
Color: Milky-white, pearly opaline
Corresponding chakras: Crown, Third Eye, Heart
Benefits and healing properties: Calming effect, facilitates intuition, enhances perception and discernment, stimulates confidence, fosters happiness, helps the digestive and reproductive systems, eliminates toxins, and helps PMS, conception, pregnancy, childbirth and breastfeeding
Zodiac: Cancer, Libra, Scorpio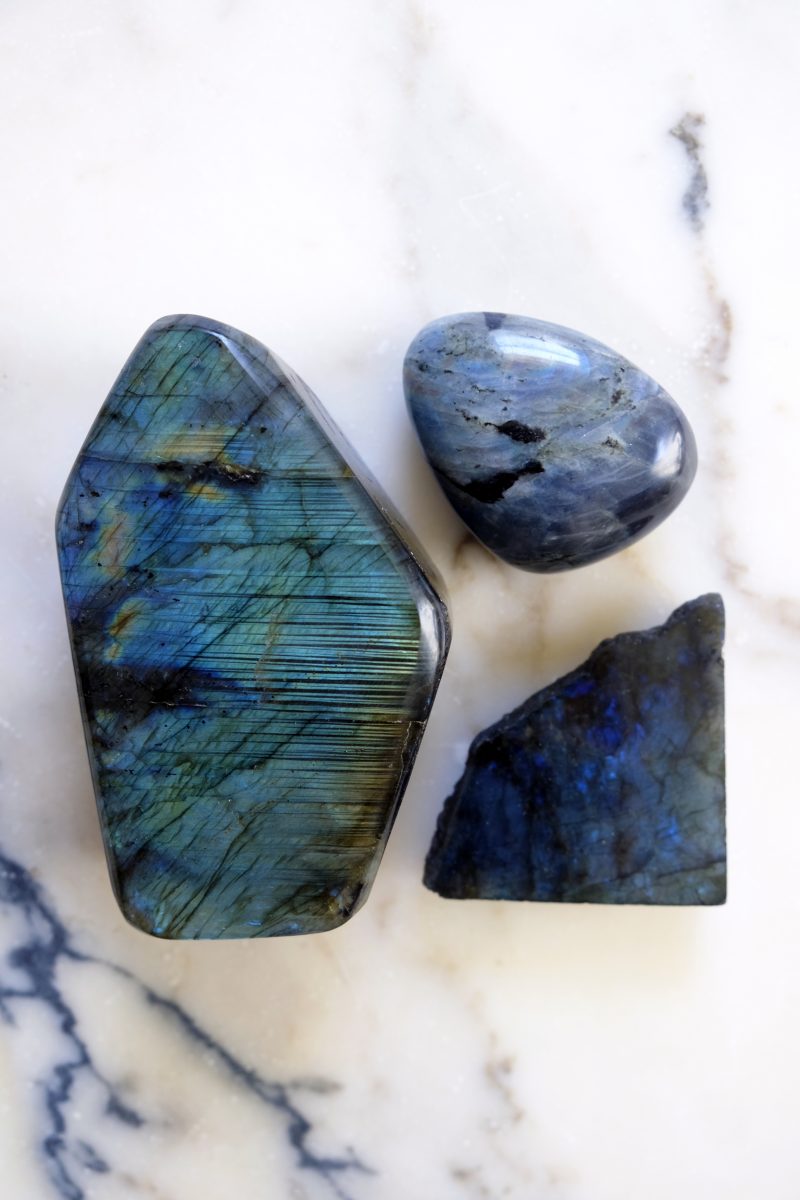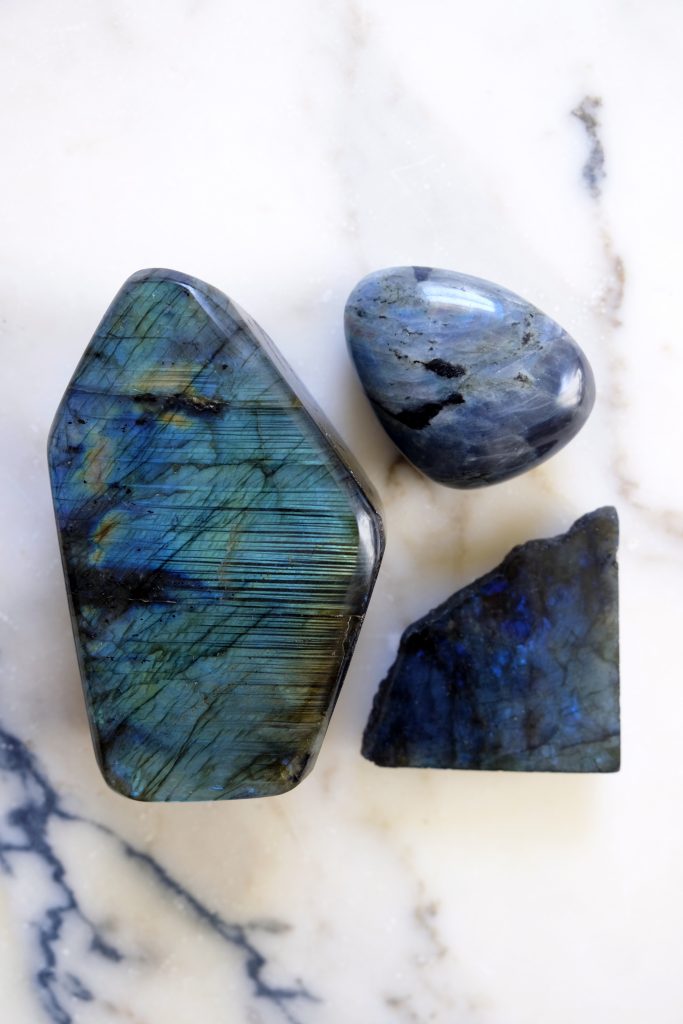 Labradorite
Color: Iridescent with vibrant colors
Corresponding chakras: All
Benefits and healing properties: Stimulates intuition, banishes fear and insecurities, calms the mind, energizes the imagination, relieves stress, regulates metabolism, balances hormones, relieves menstrual tension, lowers blood pressure
Zodiac: Sagittarius, Scorpio, Leo
Malachite
Color: Green
Corresponding chakras: Heart, Solar Plexus
Benefits and healing properties: Used for deep energy cleaning, bringing healing, restoring strength and vitality, transformation, protection, encourages safe and easy travel
Zodiac: Capricorn, Scorpio
Aqua Aura Spirit Quartz
Color: Bright blue
Corresponding chakras: Crown, Solar Plexus
Benefits and healing properties: Activates soul energy, provides protection, encourages communication from the heart, protects against radiation
Zodiac: Pisces, Cancer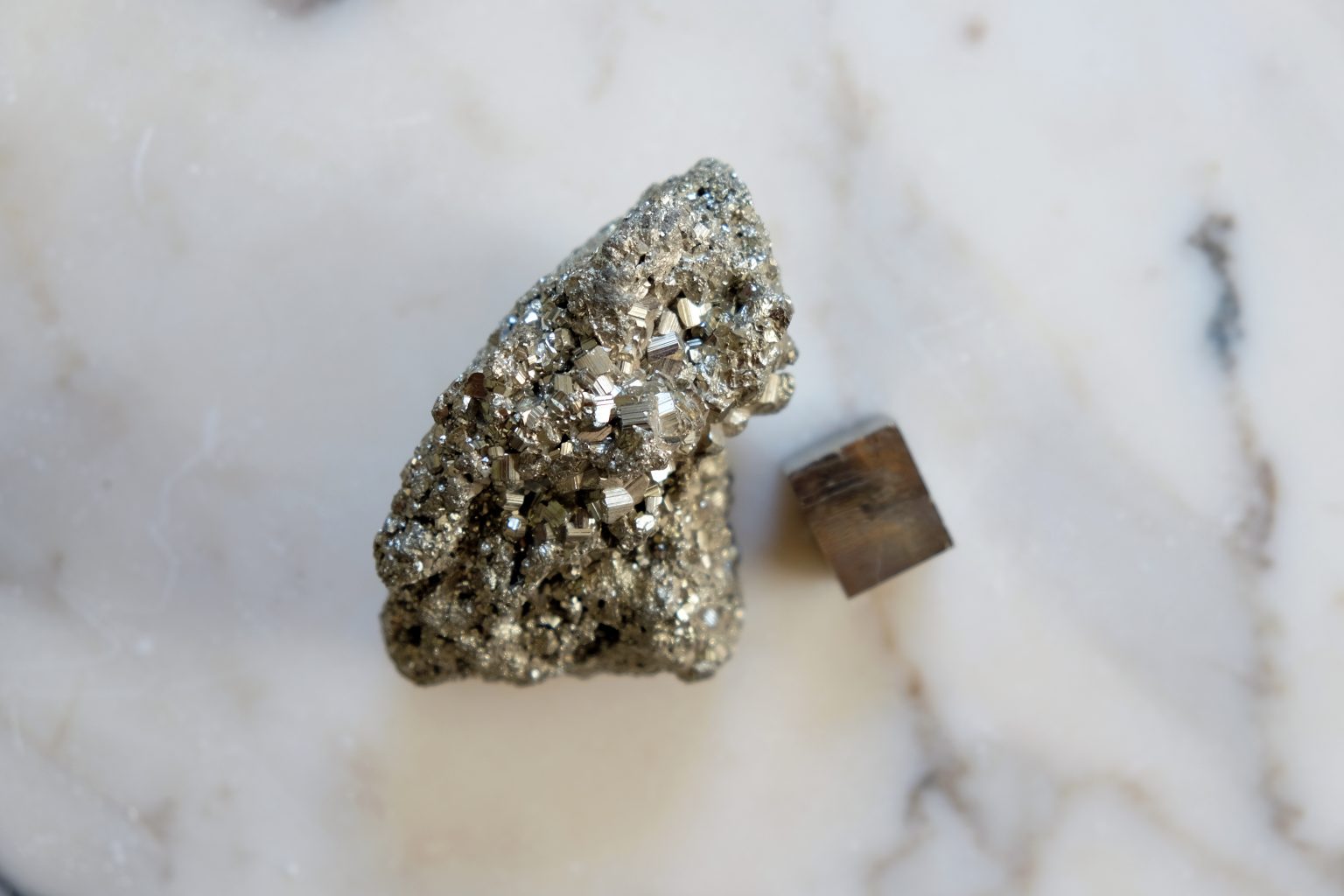 Selenite
Color: Orange-brown, blue, green,
Corresponding chakras: Third Eye, Crown
Benefits and healing properties: Promotes flexibility, brings clarity of mind, clears confusion, helps with overcoming stagnation in one's life
Zodiac: Taurus
Smoky Quartz
Color: Light grayish-brown to deep black, transparent or translucent
Corresponding chakras: Root
Benefits and healing properties: Relieves fear, lifts depression, brings emotional calmness, facilitates manifestation, helps bring one's dreams to reality
Zodiac: Capricorn, Sagittarius