Anyone who knows me well knows how much I love to make kale salad. This early fall version really hits the spot. Roasted delicata on everything, please. This recipe is so creamy and savory. It almost reminds me of caesar salad in a way. A super easy and quick meal to make, this salad is hearty enough to stand on its own, or could be served as a side dish.
Today is our last day at home for a while, as we're about to embark on a 3-week trip to Hong Kong and Japan. I couldn't be more excited about our trip, but I'm a little sad we are missing October at home. (I'm even more sad that we can't pack our sweet fur babes in our bags.) This time of year always makes me feel nostalgic. Bringing up memories of the past, memories of growing up picking apples and eating apple cider donuts with my family in rural Connecticut. What are you favorite memories of fall? And what are you favorite fall recipes? I'd love to hear from you!
I'll be taking a small break from the blog while we are away, but I'll be back the last week of October with a new recipe and tales from our travels. Be well, and enjoy this beautiful season.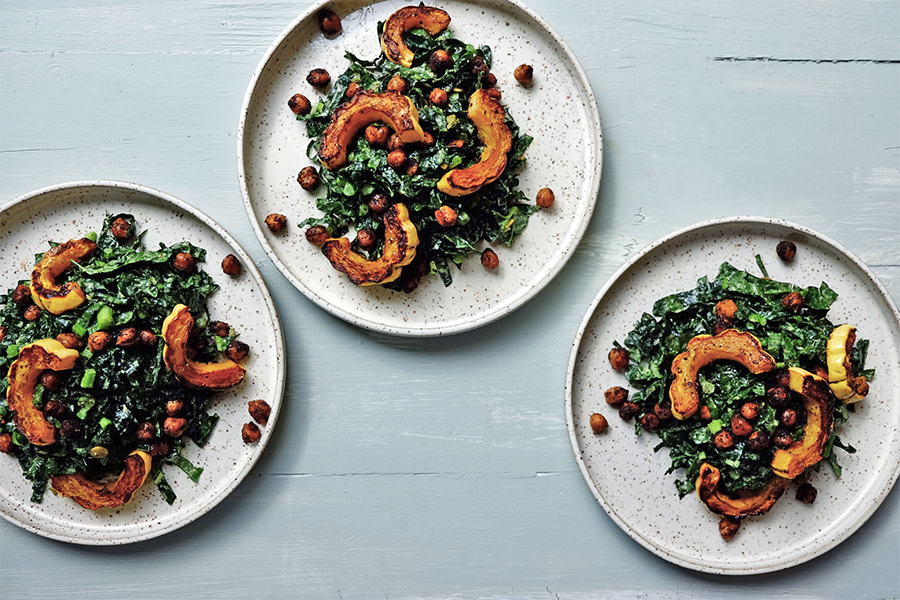 Kale Salad with Roasted Delicate Squash, Spicy Chickpeas and Ginger-Tahini Dressing
[Serves 4-6]
For the salad:
1 large bunch of laminate kale, finely chopped
1 delicata squash, cut into half moons
1 1/2 Tablespoons avocado oil
3 Tablespoons raw pumpkin seeds
Spicy Roasted Chickpeas:
1 15oz can of chickpeas/garbanzo beans
1 teaspoon hot chili powder
2 tablespoons avocado oil (or coconut oil)
Salt + pepper, to taste
For the Ginger-Tahini Dressing:
1/4 cup extra virgin olive oil
4 Tablespoons water
2 Tablespoons tahini
1 Tablespoon cashew butter
Juice from 1 small lemon
1 teaspoon liquid aminos
1-2 cloves garlic
1″ piece of ginger
Salt + pepper, to taste
Preheat oven to 425°. Deseed and cut the delicata into half moon shape pieces about 1/2″ thick. Toss to coat with avocado oil, salt and pepper. Roast in preheated oven for about 25 minutes. Be sure to flip once during cooking before getting too brown on either side.
Drain and rinse the canned chickpeas. Toss with avocado oil, chili powder, salt and pepper on a rimmed baking sheet. Roast in the oven for about 15-20 minutes, tossing a few times during roasting.
While delicata and chickpeas are roasting, prepare the dressing. Blend all ingredients in a high-speed blender, or with an immersion blender, until smooth.
Finely chop or shred the bunch of kale. In a large serving bowl, using your hands massage about 3/4 of the dressing into the kale until the kale is well dressed.
Add the pumpkin seeds and chickpeas and lightly toss with the dressed kale. Before serving, divide up the roasted delicata slices amongst each individual serving. Drizzle the remaining dressing on each serving if desired.