I'm back from Asia and feeling more inspired by fall harvest foods than ever before. Boy, did I miss my kitchen! This soup is one of my favorite recipes. I've been making it for years and finally this fall, in partnership with Fred Meyer, I'm so happy to share it with you. My local Fred Meyer Store has an extensive organic and natural foods section and carries all my favorite brands.
Make a pot of this soup on Sunday and have soup for lunches the following week. You can always vary the add ons to give it a new taste. Some other yummy ideas: sautéed mushrooms or spicy chickpeas on top. Serve over rice or quinoa for a more complete meal. Otherwise, this soup is perfectly delicious on its own. I added the 1/4 teaspoon of cayenne, and this batch of soup had an extra kick that my husband and I loved. Feel free to vary the amount of cayenne or leave it out based on how much spice you like.
[This post was sponsored by Fred Meyer. All thoughts and opinions are my own.]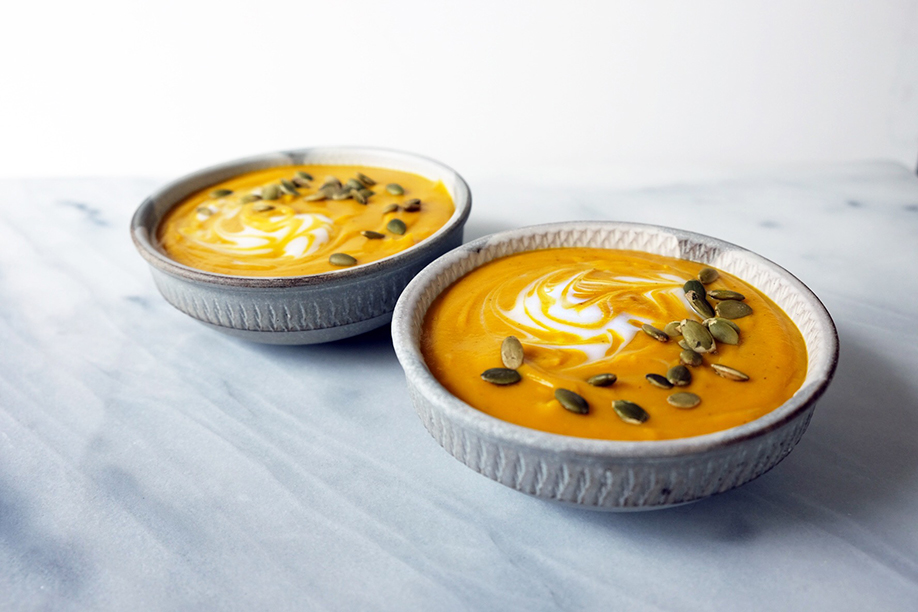 Curried Butternut Squash Soup
[Makes about 12 cups]
3 1/2 pounds peeled and cubed butternut squash, 1″ cubes
1 large yellow onion, chopped
4 Tablespoons avocado oil
1 heaping Tablespoon fresh ginger, minced
1 teaspoon salt
5 cups veggie broth
1 Tablespoon hot curry powder
2 teaspoons salt
1 teaspoon black pepper
1/2 teaspoon ground cumin
1/4 teaspoon turmeric
1/8 – 1/4 teaspoon cayenne pepper (optional)
2 Tablespoons nut butter (I used raw cashew butter, but peanut or almond butter works well, too!)
To garnish:
Raw pumpkin seeds
Coconut yogurt
Peel, seed and cube 3 1/2 pounds of butternut squash. Chop the large onion.
In a heavy bottomed soup pot, or dutch oven, heat the oil over medium heat. Season with 1 teaspoon of salt and sauté the onion for 8-10 minutes until semi translucent and tender. Halfway through cooking, add the fresh ginger.
Add the cubed butternut and salt and pepper to taste. Stir in with the onion and ginger. Put the lid on the pot or dutch oven and allow to cook covered for about 15-20 minutes, stirring every 3-4 minutes.
Once the butternut is somewhat tender, add the broth, put the lid back on and bring soup to a steady boil.
Once boiling, turn down to a simmer. Add the curry powder, salt, pepper, cumin, turmeric and cayenne. Allow to simmer another 3-5 minutes.
Add the nut butter and stir into soup base until mostly dissolved.
Using an immersion blender, or a high-speed stand blender, puree the soup until completely smooth.
Season with more salt and pepper if desired. Garnish with raw pumpkin seeds and a swirl of non-dairy yogurt. Serve immediately.