Happy New Year! The holidays are so lovely, but I always look forward to the January restart. It feels so good to eat lighter meals, exercise more and get back to optimal health. I don't know about you, but I still crave salads in the winter. Not as often as in the summer (everyday), but definitely on a weekly basis. This citrus salad is one of my favorites. It almost makes me forget it's winter. Crunchy, bright and creamy. Best eaten with a fork and knife.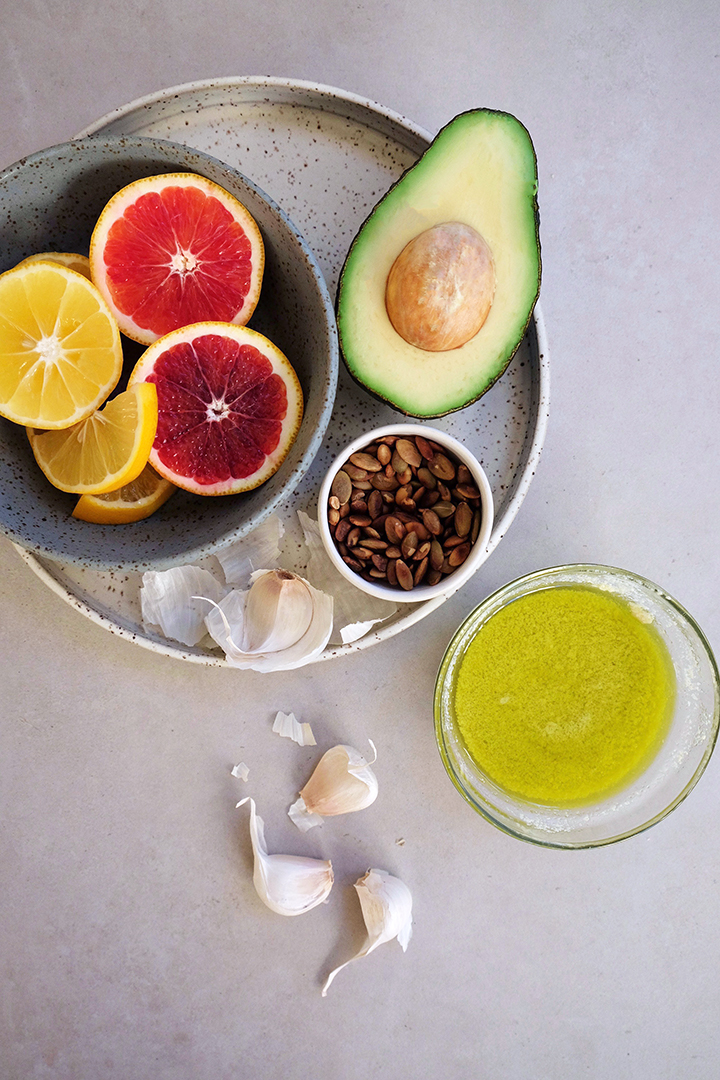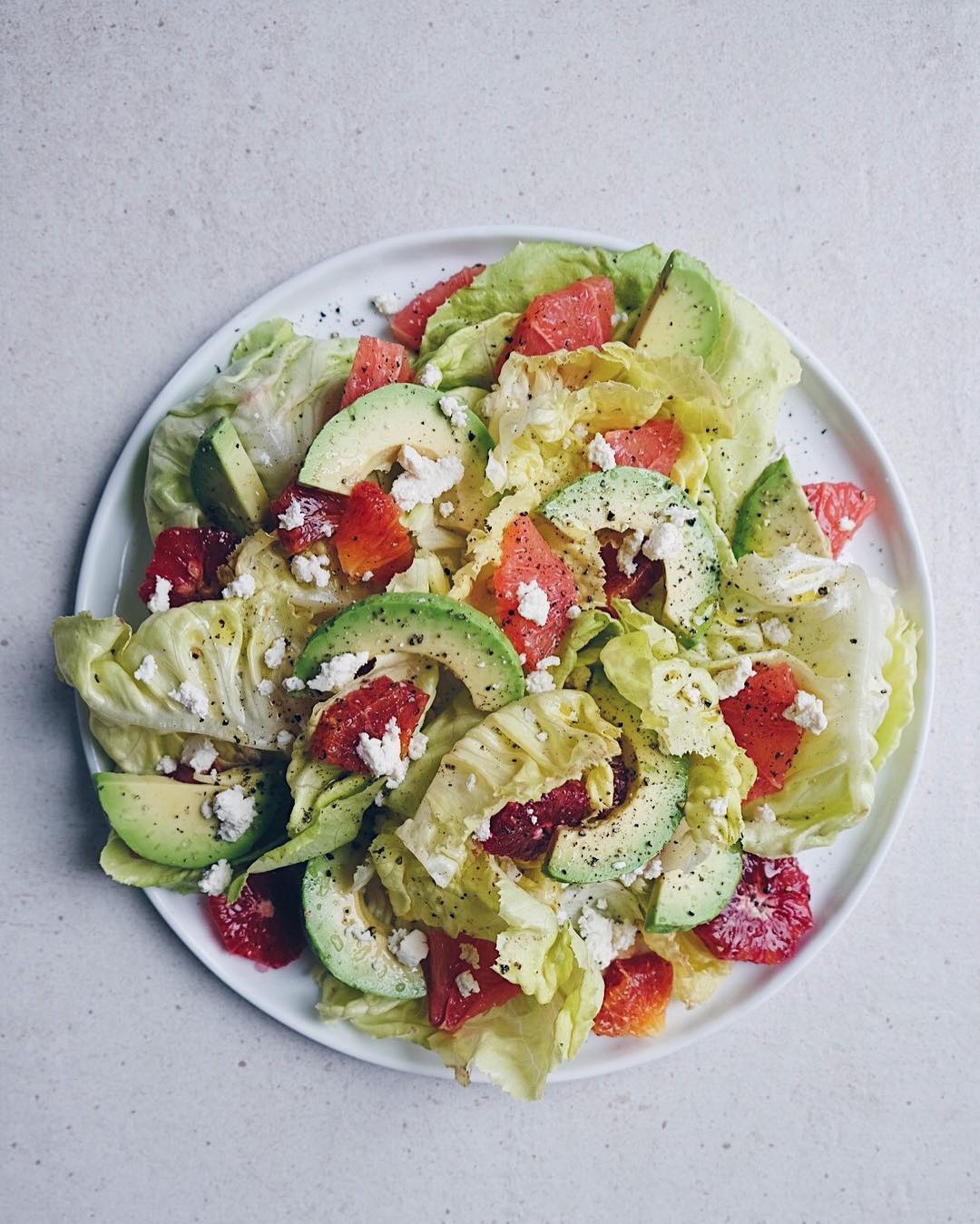 I made this dressing creamy with the addition of a store-bought cashew cheeze from brand Heidi Ho. If you haven't tried this brand of plant-based cheezes, you really should. They are sold nationally, so hopefully you're able to find it or one like it. If not, I made some notes at the bottom  with some alternatives, including making your own or using finely grated parmesan if dairy isn't a problem for you. I also recommend using very high quality extra virgin olive oil. It really does make a huge difference.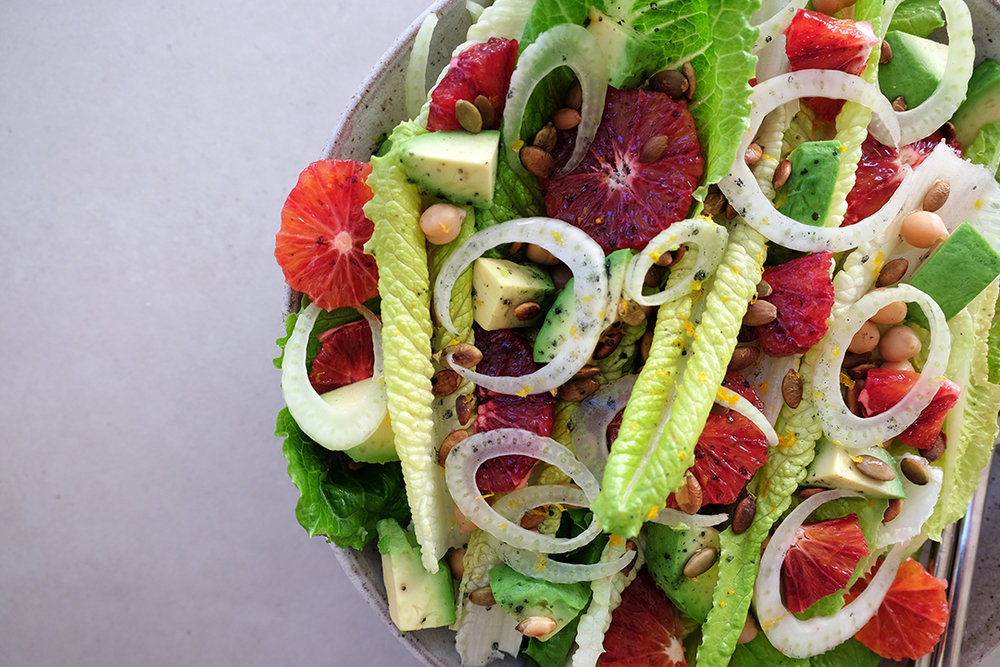 Blood Orange, Romaine, Avocado and Fennel Salad with Creamy Meyer Lemon Dressing
[Serves 2-4]
For the salad:
3 romaine hearts, washed and dried thoroughly, leaves left whole
2-3 blood oranges, cut into bite-sized pieces or thinly sliced whole
1 avocado, cubed
1 small fennel bulb, thinly sliced
1  15 oz can garbanzo beans
3 Tablespoons pumpkin seeds, toasted
1 teaspoon Meyer lemon zest
Salt + pepper, to taste
For the dressing:
3 Tablespoons extra virgin olive oil, highest quality available
2 Tablespoons Meyer lemon juice
2 Tablespoons cashew cheeze, either store bought or homemade*
1 clove raw garlic, pressed
Salt + black pepper, to taste
Toast the pumpkin seeds in a dry skillet over medium heat for about 3-4 minutes or until browned. Set aside.
Drain and rinse the garbanzo beans. Set aside.
Make the dressing by whisking together all ingredients in a small bowl. Set aside.
Put together the salad by layering the romaine leaves with the blood orange, avocado and fennel. Top with garbanzo beans, pumpkin seeds and Meyer lemon zest. Drizzle with dressing, serve and enjoy!
*I recently discovered Heidi Ho's line of plant-based cheezes, and I'm completely obsessed. For this recipe, I used the Ne Chèvre  – Pure. If you don't have or aren't able to find vegan cashew cheese, you could make a super quick version for this recipe by blending some soaked cashews, lemon juice, nutritional yeast and salt until smooth. If you're looking for a recipe, this one is great. Alternatively, you could add raw cashew butter, tahini or finely grated parmesan instead of the cashew cheeze. You may just need to adjust the lemon juice, garlic and salt + pepper to taste.