Just after Christmas, I got together with my friend Sasha to collab on an Ayurvedic immune-boosting soup recipe. Sasha is the brains and talent behind the insanely gorgeous food blog, Tending the Table. I've long been inspired by Sasha's beautiful photography, her commitment to sustainability and her knowledge of Ayurveda. If you don't follow her already, I highly recommend checking out her work. We've known each other for many years through a mutual friend, so it was lovely to finally work on a recipe together. This soup is not only delicious, it's nourishing and strengthens immunity, making it perfect for sipping during these coldest winter days.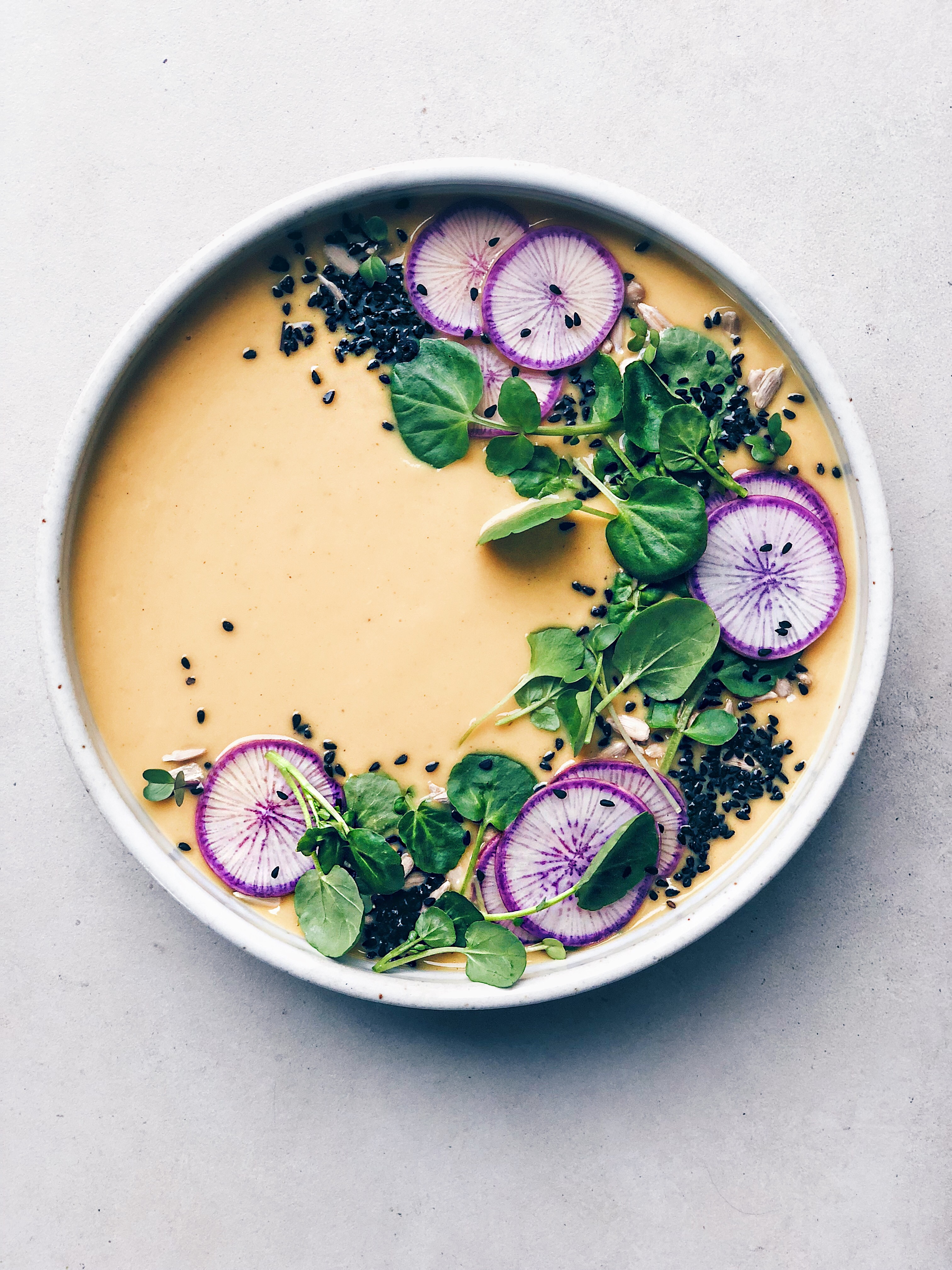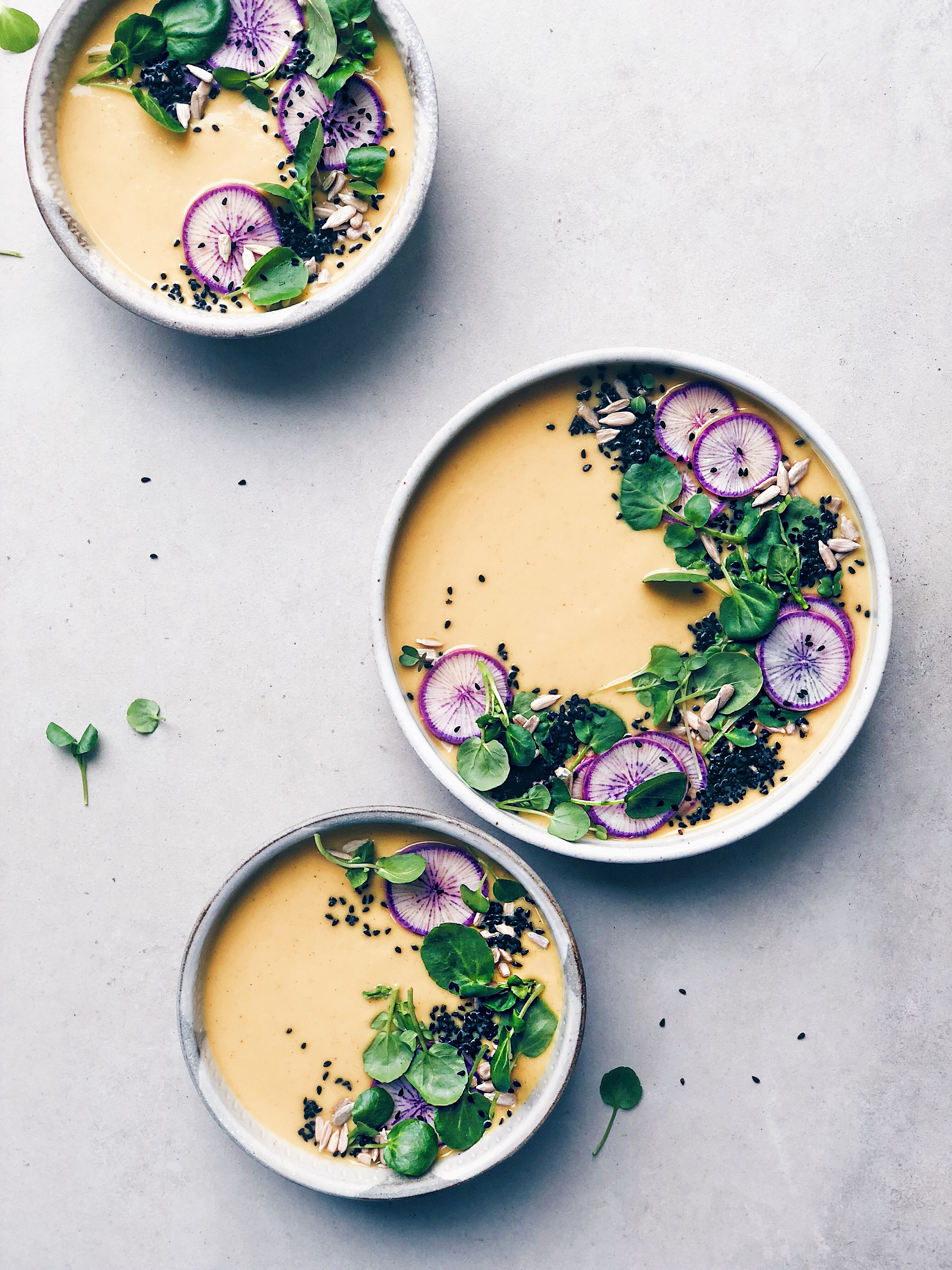 Surprising or not, there is strong connection between what we eat and how often we get sick. I noticed when I cut out dairy and refined sugar about 3 years ago, I haven't gotten a cold since. There are foods we can eat and herbs we can include in our daily routine that boost immunity and overall energy. Sasha taught me about building up Ojas through nourishing foods like coconut, almonds, ghee, honey, saffron, cardamom, dates and avocado. If you've never heard of Ojas…
From Sasha:
In Ayurveda, and in Yoga, there are three subtle essences responsible for all physiological and psychological functions; Prana, or life-force, Tejas, or transformation, and Ojas. Ojas is the subtle essence of strength, vigor, resilience, longevity, and immunity. It's responsible for that radiant glow, vibrancy and vitality that we've all seen in others and wanted for ourselves. According to Ayurvedic philosophy, the body takes 30 days to create Ojas through the process of healthy digestion. For a more detailed description of this process check out this article and to learn more about how to promote healthy digestion from an Ayurvedic perspective, check out this post from last year.
This soup also includes ashwagandha and shatavari – two powerful Ayurvedic adaptogens. Ashwagandha is especially useful for dealing with stress in the body and promotes an overall sense of well-being. Stress is one of the largest contributors to sickness and disease. Adaptogens help our body cope with emotional, environmental and physical stress. They are best taken in small amounts over long periods of time. Shatavari specifically helps the body build Ojas. It is especially useful in calming the nervous system, nourishing the brain and helping with overall balance in the body and brain.
Immune-Boosting Adaptogenic Roasted Cauliflower Soup
[Serves 4-6]
1 head cauliflower, chopped
1/2 bulb celeriac, peeled and cubed
1 1/2 tablespoons avocado oil
1 teaspoon salt, divided
1/2 teaspoon black pepper
1 1/2 teaspoons ghee
1 large shallot, minced
1 inch fresh ginger, peeled and minced
1 inch fresh turmeric, peeled and minced
1 cup full-fat coconut cream (I use this brand, and it's the BEST.)
4 cups low-sodium vegetable broth
1 teaspoon shatavari powder
½ teaspoon ashwagandha powder
Juice from ½ lemon
To garnish: Radishes, watercress, sunflower seeds and nigella seeds
Preheat the oven to 400° F. Toss the cauliflower and celeriac with the oil and ½ teaspoon salt. Spread evenly on a rimmed baking sheet and roast for 30 minutes, until tender when pierced with a knife and beginning to brown.
Meanwhile, heat the ghee in a large pot set over medium heat. Saute the shallots, ginger and turmeric with 1/2 teaspoon salt and black pepper until soft. Add the roasted cauliflower and celeriac, the coconut milk and vegetable broth and simmer for 5-10 minutes. Add the shatavari, ashwagandha and lemon juice. Mix thoroughly.
Transfer to a high speed blender. Puree on high until completely smooth. Add more salt and/or black pepper to taste. Serve warm garnished with sliced radishes, watercress, sunflower seeds and nigella seeds.