As you may (or may not) have noticed, cannabinol (CBD) is majorly trending in the wellness space as of late. It's prized for its anti-inflammatory properties and acting as a natural pain reliever, as well as helping with anxiety and depression. The thing about CBD is that because cannabis is still illegal in most places there is not much clinical research out there on its actual benefits. I asked Anja Charbonneau, the Editor-in-Chief of Broccoli Magazine, to help break down CBD and what we know about it (see  a few paragraphs below). As she points out, most of the information we have is based on anecdotal evidence. In the spirit of that, I'll share my experience with taking CBD.
I started taking CBD in early November. I've been taking it pretty consistently since then (except for a 10-day break when I was in Mexico), and I've noticed changes in my stress/anxiety levels, joint inflammation and my sleep. When I'm taking CBD, I sleep way more soundly. Falling asleep is a breeze, and once I'm sleeping it's a very deep sleep. I've also noticed my body reacts less to stress. I love using CBD as a way to wind down from my day or when I'm feeling overly nervous, anxious or stressed out. Lastly, I've struggled with joint pain and inflammation for years since an 8-day stint in the hospital with a systemic joint infection in 2011 that left me unable to walk for a month. I've noticed that when taking CBD, my knees don't bother me as much from day to day, as well as in my Barre3, yoga or Backbody Project classes.
I mainly use the oil in my daily matcha potion or my evening Moon Milk. I've also been hearing amazing things about CBD bath products, so I'm dreaming of a cannabis-inspired bath in my near future. From nut milk to infused honey to face and body lotion, CBD is in everything these days. I've rounded up some of the best products out there (see bottom of post) based on recommendations from trusted sources and products that are on my list to try. It seems like there is a product out there for everyone.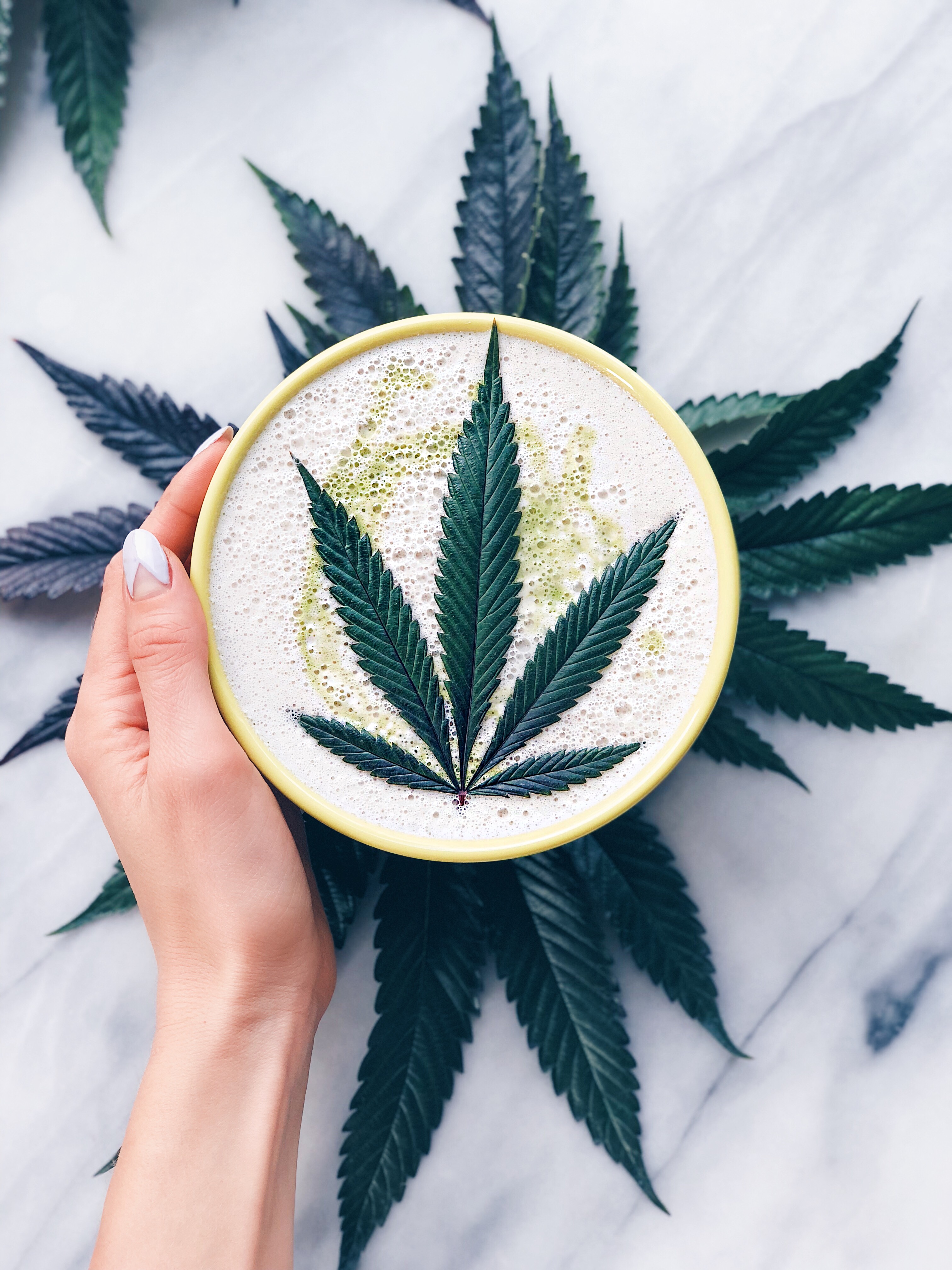 From Anja Charbonneau, Broccoli Magazine, Founder and Creative Director  :
Cannabidiol – aka CBD – is one of many naturally-occurring compounds that exist in the cannabis plant. It's closely related to THC, but with a special twist: CBD won't get you high.
Cannabis is gaining recognition for its health and wellness benefits, but depending on your state's cannabis laws, products with THC may not yet be a legal option for you. Plus, you might not want to get stoned, and CBD-based products can offer these benefits without the high.
Cannabis is still classified as a controlled substance in the US, preventing most clinical research surrounding cannabis and health. Until that changes, we're relying on anecdotal evidence to understand the healing properties of the plant. But, the anecdotal evidence is strong: many people use CBD products to help with chronic pain, headaches, anxiety, depression, and insomnia. It is also becoming a popular ingredient in beauty and skincare products, mostly due to anti-inflammatory qualities—you can even find CBD bath bombs, eye masks and lip balms.
If you live in the US and are interested in trying CBD, we recommend companies like Mary's Nutritionals and CW Hemp, who are nationally recognized for their quality and source their CBD from local growers. Both companies offer a wide range of products.
For a topical product like a balm or lotion, 25-100mg of CBD per bottle is fairly common. For tinctures and oils that you ingest, higher potency options are available, up to as high as 3000mg of CBD in a small bottle. Which one is right for you? We recommend starting small, and if you aren't seeing the results you want, try moving to a product with more CBD per fluid ounce.
Overall, we recommend learning about the body's endocannabinoid system, so you can better understand how the human body reacts to things like THC and CBD. Beyond that, look for companies that use locally sourced CBD from trusted farms, and share your personal CBD experiences with others who are curious, because anecdotes and personal stories are the best tool we have for sharing knowledge while cannabis is still widely illegal and stigmatized.