Currently, I'm up in Whistler, Canada, where I am on a short vacation with family. Sitting in a warm cabin, dreaming of these tartlets that are back home in my freezer. The amazing thing about these tartlets (besides the obvious) is that they store well in the freezer, so you can make a big batch and when you want them just pull a few from the freezer to thaw for a couple hours before eating.
I've always loved raw, vegan desserts. I don't have a huge sweet tooth, so these strike the perfect balance between being a treat without being too sweet. They are relatively simple to make, and come on, they're just adorable to look at. I've been playing with different combinations of flavors for raw desserts for a few years now. Matcha and lemon pair well together, and the gorgeous green color of the matcha and contrasting lemon zest really make these tartlets a treat for the eyes.
For those of you that aren't familiar with matcha, it is a specially grown and processed, finely ground green tea powder traditionally used in Chinese and Japanese tea ceremonies. It is praised for its high levels of antioxidants called polyphenols that have been tied to protection against heart disease and cancer, as well as better blood sugar regulation and anti-aging. Its gorgeous green color makes the perfect natural food coloring, too. Be sure to buy a high-quality powder that does not have any additives. I use this brand, which is local to Portland.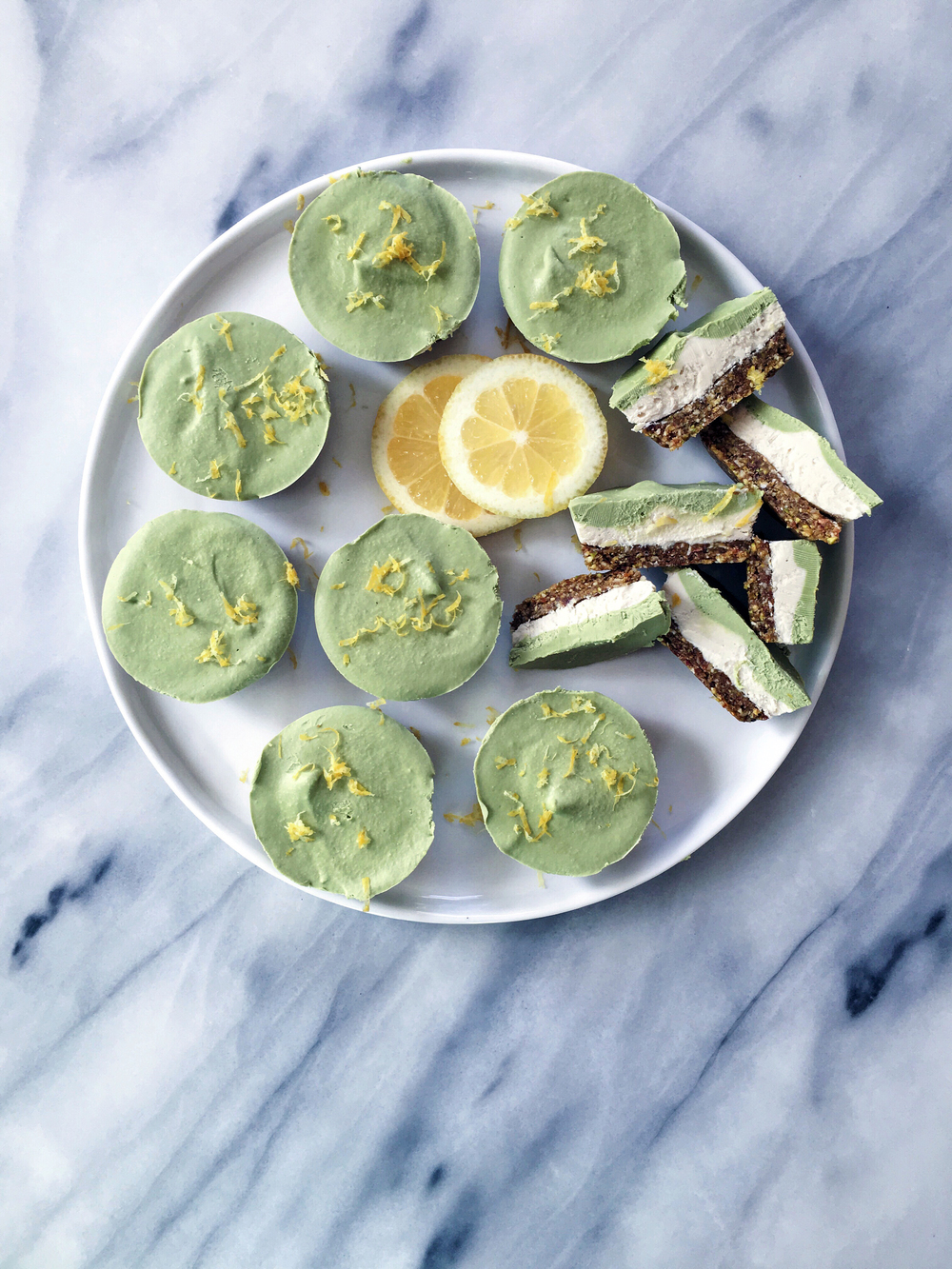 Raw Lemon-Matcha Tartlets
[Makes about 20 tartlets]
Crust
1 cup pistachios
1/2 cup almonds
1/2 cup walnuts
14 medjool dates
1/2 cup dried, shredded coconut
Filling
2 cups raw cashews, soaked in water overnight
1/2 cup coconut cream
1/3 cup maple syrup
1/3 cup coconut oil
juice from 1-2 lemons, to taste
2 1/2 teaspoons matcha powder
Pulse the pistachios, almonds and walnuts in a high-speed blender or food processor until fine. Add the dates and coconut, and pulse until combined. The mixture should stick together and easily form into a ball. Remove from blender or food processor.
Create tabs from parchment paper that will help make removing the tartlets from the muffin tins once frozen. The tabs should be about 4″ long and 1/2″ wide. Lay them in each slot of the muffin tin before pressing in the crust.
Press a couple of teaspoons (a small ball) of the crust into each muffin slot on top of the parchment paper tabs. Use your finger to press the crust firmly and evenly into each slot. Once you are done, place the muffin tins in the freezer to chill while you prepare the filling.
Drain the cashews from the water and pour into high-speed blender. Add the coconut cream, maple syrup, coconut oil and lemon juice. Blend on high until smooth.
Remove muffin tins from the freezer. Pour a layer of the cashew filling over the crust. Use a spoon to spread the mixture in each slot. Be sure to leave enough room for a second layer of filling. Put muffin tins back into the freezer.
Add the matcha powder to the remaining filling mixture and blend until combined. You can add more if you want the green filling to be darker in color.
Remove muffin tins from freezer again. Pour a layer of the matcha filling in each of the muffin slots. Use a spoon to smooth the top. Garnish each tartlet with lemon zest.
Place the muffin tins back in the freezer, and freeze for 1-3 hours, or until the tartlets are set. When you want to remove the tartlets, take the muffin tins out of the freezer, wait about 3-5 minutes and then use the pull tab to remove each tartlet from its slot.
Store in an airtight container in the freezer or refrigerator. These will keep for quite a while in the freezer, so you can store extras in the freezer. Move to the refrigerator a couple hours before eating.