We just returned home after 4 days up in Canada, spending time with friends and family. It was a quick trip, but it felt nice to connect with loved ones and spend some time outside. The one thing I always miss about home (besides my sweet fur babes) is healthy homemade meals. This smoothie bowl was the first thing on the menu for the week. An energizing way to start off the week.
A couple weeks ago, I bought a bag of cacao butter to make raw chocolate, which I haven't done yet (recipe coming when I do!), so I thought I would come up with a smoothie bowl recipe using it in the meantime. This recipe calls for raw cacao butter, powder and nibs. Raw cacao is packed with antioxidants and minerals like magnesium, iron, potassium, calcium, zinc, copper and manganese. Raw cacao is a powerful superfood with so many fantastic benefits. It also tastes like chocolate and can be used in baking and cooking, wherever a chocolate flavor is desired.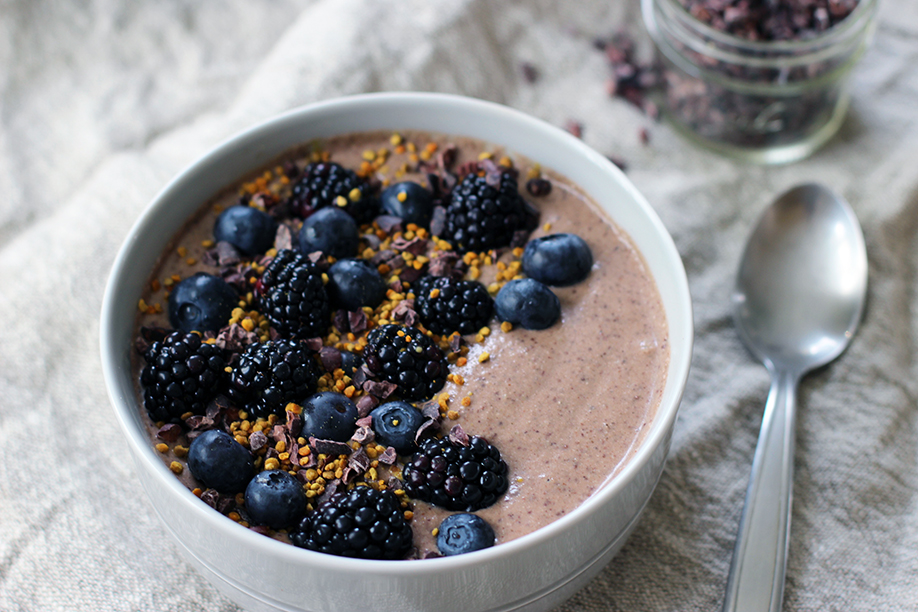 Raw Cacao Smoothie Bowl
[Makes 2 bowls]
Raw Cacao Smoothie Base
2 bananas
2 pears
1/4 cup dried coconut
2 Tablespoons raw cacao butter
2 Tablespoons raw cacao powder
2 Tablespoons raw cacao nibs
2 Tablespoons raw almond butter
1 cup hemp milk (or any non-dairy milk)
1 Tablespoon chia seeds
4 ice cubes
Toppings
Local bee pollen
Blueberries
Blackberries
Cacao nibs
Chop or shave the cacao butter into smaller pieces. Put cacao butter and the rest of the ingredients in a high-speed blender. Blend on high until smooth.
Divide contents of the blender into 2 bowls. Top with blue and blackberries, bee pollen and cacao nibs.