I could seriously live on kale salad bowls. This version is my favorite. I like to switch up the ingredients in the bowl, like swapping the roasted golden beets for yams, but the dressing and the base always stay the same. The heartiness of the kale makes this salad keep as leftover lunch for the next day without getting soggy.
My husband often requests these spicy chickpeas, as they are a great addition to so many dishes. They are super simple to make and only take about 20 minutes in the oven. Same goes for the salad dressing. In this recipe it's broken down into two parts: one for the kale and one for drizzling over the top of the finished bowl. I often throw all the ingredients together (minus the water) to make a salad or rice bowl dressing. This is my go-to dressing that I've been making for many years.
I'm about to head out the door to take a hike up Saddle Mountain with some of my girlfriends. The weather has been gorgeous, and there are definitely notes of summer in the air. I hope you are having a lovely weekend!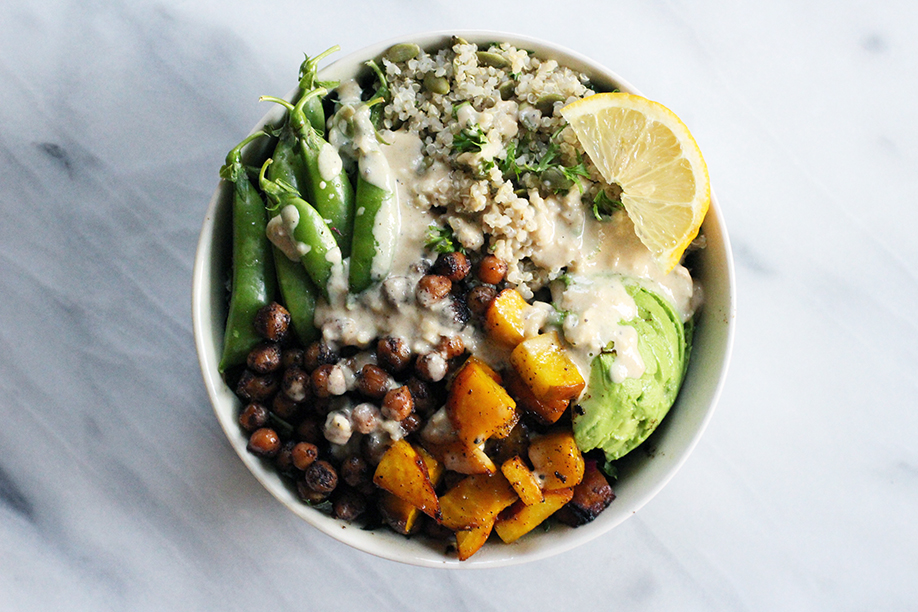 Kale Salad Bowl with Tahini Dressing
[Makes 2 bowls]
1 bunch lacinato kale
1/2 head of radicchio
1 cup quinoa, cooked
3 golden beets, cubed
1 avocado, sliced
1-2 handfuls sugar snap peas
Small handful of parsley, chopped fine
2 tablespoons pumpkin seeds
Juice from half a lemon
3 tablespoons extra virgin olive oil
Spicy Roasted Chickpeas
1 15oz cans of chickpeas/garbanzo beans
1 teaspoon hot chili powder
2 tablespoons avocado oil (or coconut oil)
Tahini Dressing
4 tablespoons tahini
4 tablespoons warm water
2-3 cloves raw garlic, pressed
salt + pepper, to taste
Preheat the oven to 400°. Cut the beets into cubes and toss with about a tablespoon of oil, salt and pepper. Roast in the oven for about 25-30 minutes, or until beets are tender, but not overcooked, turning a few times during roasting.
Drain and rinse the canned chickpeas. Toss with avocado oil and chili powder on a rimmed baking sheet. Roast in the oven for about 15-20 minutes, tossing a few times during roasting.
Cut the clean kale and radicchio into thin strips. In a medium bowl, toss with olive oil and lemon juice. Massage the olive oil/lemon juice into the salad mixture until the kale is tenderized.
Combine the cooked quinoa with the parsley and pumpkin seeds and set aside.
Mix the tahini, warm water, raw garlic, salt and pepper in a small jar or cup. You can adjust the amount of water and tahini based on how thick or runny you want your dressing.
Divide the kale and radicchio salad between two bowls. Start layering in your toppings. I like to section mine off, but you could also just toss everything together in a large bowl and then divide into individual servings.
Once you have all the toppings layered on top of the salad, drizzle the tahini dressing on top of each bowl and serve with a slice of lemon.