It's been a while since my last post. I've been so busy with work, the start of the warmer months and our quick trip to Joshua Tree. I can't believe we're almost half way through May! I will be sharing some photos from our desert trip soon, but for now, here's this yummy, quick and easy salad recipe.
After coming home from a long day of work, I am always trying to create quick and easy dinner ideas. This salad is about as easy as they come. Packed with flavor yet fresh and healthy, the snap peas add a nice crunch while the edamame and rice noodles are quite filling. I've been really into using black sesame seeds (re: my last post), and I usually incorporate lime (or lemon) into every meal.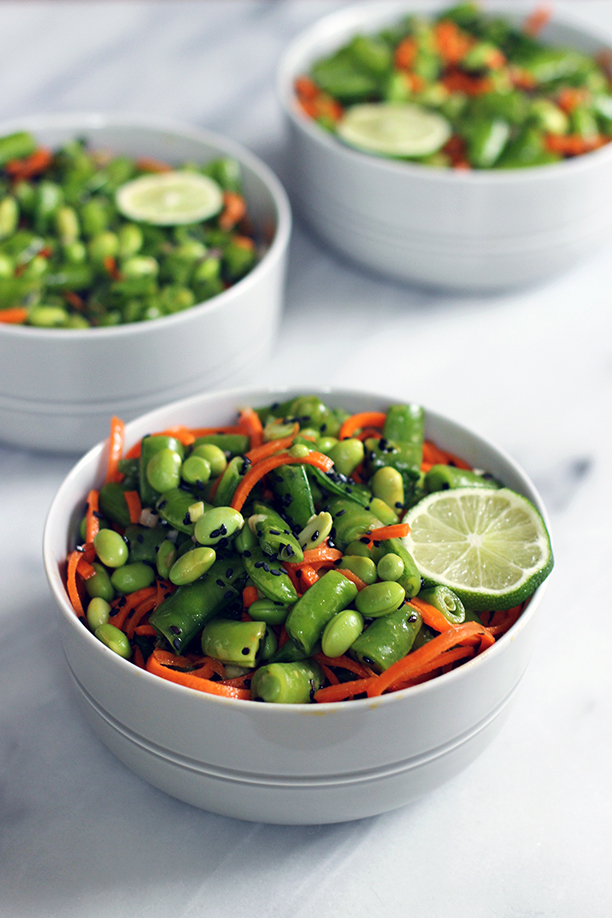 Snap Pea, Edamame and Black Sesame Salad with Carrot and/or Rice Noodles
[Serves 2-3]
Salad
3 cups sugar snap peas, cut in thirds
1 cup frozen edamame
1 tablespoon black sesame seeds
1 package brown rice noodles and/or 3 (more if not using rice noodles, too) carrots, spiralized into noodles
Dressing
1/3 cup sesame oil
3 tablespoons rice vinegar
1 1/2 tablespoons liquid aminos, or tamari
3 small shallots, minced
2 inch piece of ginger, minced or pressed
Juice from 1 lime
1/2 teaspoon salt
a couple pinches cayenne pepper
Soak rice noodles (if using) in warm water for 20-30 minutes, or until tender.
Steam or boil the edamame in a small amount of water for about 5 minutes, or until tender.
Spiralize the carrots, if using for noodles.
Cut the sugar snap peas into thirds, or bite-sized pieces.
Mix the sesame oil, rice vinegar, aminos/tamari, shallots, ginger, lime juice, salt and cayenne in a small jar.
Toss all the salad ingredients in a large bowl with dressing. Serve with a slice of lime.