Oh man, you guys! This is a delicious one. We just booked a 3-week long trip to Japan and Hong Kong for this October. I've been seeing so many pictures of black sesame soft serve on Instagram and Pinterest, so I decided it was time to make my own version of this Asian treat. If you have any travel recommendations for Hong Kong or Japan, I would love to hear them. Please leave a comment, or send me an email.
The rich, nutty flavor of black sesame is so unique. I rebounded mine with some extra nut mylk after it was completely frozen to get the soft serve consistency, but that's not necessary, as the nice cream is delicious as is. Seen here as a topping on a blue algae and spirulina smoothie. My husband couldn't stop raving about this nice cream recipe. I hope you enjoy it as much as he did!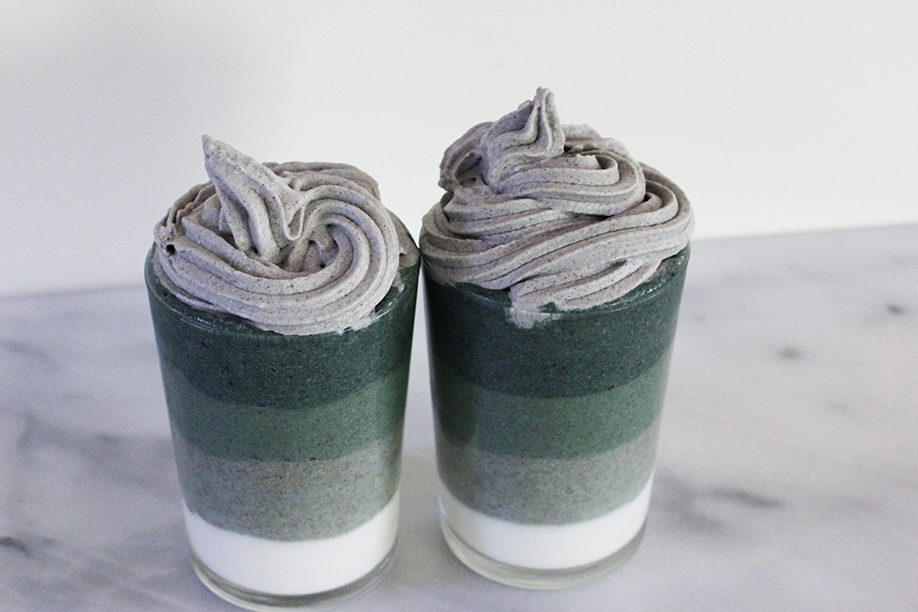 Black Sesame Nice Cream (With Soft Serve Variation)
[Makes about 4 cups]
3 young coconuts, meat scrapped out
1 cup raw cashews, soaked for 4 hours
1 can coconut milk, chilled, cream only
1/3 cup black sesame seeds
2-3 tablespoons maple syrup (or honey), (I used 2 because I like things less sweet)
1/2 – 3/4 cup nut mylk, enough to blend all ingredients
Soak the cashews in cold water for 4 hours, or in your refrigerator overnight.
Put a can of coconut milk in the refrigerator for a few hours. When opening, the cream will have separated from the water. Carefully, scoop out the cream only and place in high-speed blender. Save the water to use in your morning smoothie.
Add the coconut meat from 3 young coconuts, cashews, sesame seeds, maple syrup or honey and nut mylk to the coconut cream in the blender. Blend on high for several minutes until everything is well combined. Adjust the amount of nut mylk based on the consistency of the mixture.
Pour the mixture into an airtight container and freeze for several hours. You can eat the nice cream as is, or if you want it to have a more soft-serve consistency follow these steps.
Scoop as much nice cream as you want to eat or serve into your high-speed blender. Add a little more nut mylk and blend on high until the consistency of soft serve. [A note about adding the mylk, start with less, as you can always add more. You don't want the nice cream to end up too runny.]
Serve on it's own, or as a topping on your favorite smoothie. To make a swirl, I just use a pastry bag and star tip attachment, but the nice cream is just as delicious without the swirl.