Honestly, I've never been that into chilled soup. That is until I went to Coquine and tried Katy Millard's Chilled Peach and Cucumber Gazpacho. After that meal I knew I wanted to create a version of my own. I'm actually really surprised that I wasn't into gazpacho before, seeing that it is basically just a savory smoothie. Anyways, the version I came up with uses cucumber and honeydew melon packed with flavor from fresh herbs and a touch of heat from jalapeño.
This completely raw gazpacho makes an easy, light summer meal, or could be served with a grain (like quinoa) or topped with legumes (like chickpeas) if you are looking for something a bit more filling. I'm looking forward to making this, and perhaps an heirloom tomato gazpacho, again before the summer slips away.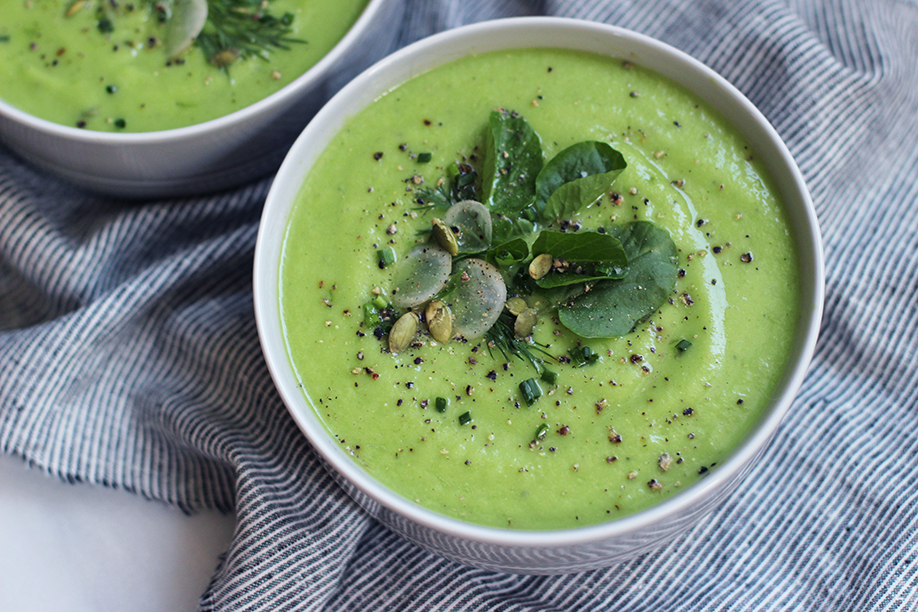 Chilled Cucumber-Honeydew Gazpacho
[Makes 8 cups]
4 medium-sized cucumbers, peeled and seeded
3 cups honeydew melon
3/4 cup fresh herbs, (I used a combination of dill, basil and tarragon)
1/2 of a large avocado
1/2 of a small jalapeño, (can use more or less depending on desired spice level)
2 tablespoons lemon juice, about 1/2 a lemon
1 clove garlic
1-2 teaspoons salt
Freshly ground pepper to taste
Optional garnishes
Watercress, chives, dill, radish, pumpkin seeds, chickpeas, yogurt, goat cheese
In a high-speed blender, or using an immersion blender, blend all ingredients until smooth. Add more jalapeño, salt and/or pepper to taste.
Allow to chill in the refrigerator for at least an hour. Garnish with desired toppings and serve immediately.