I've been a huge fan of Eden Foods for many years, so I was super excited when they asked me to create a recipe using some of their products. This recipe uses their canned chickpeas, black & tan gomasio and Shiro miso. This golden miso is the creamiest miso I've ever used. It is the sweetest, lightest, youngest miso, and is extremely popular in Japan. It has half the salt of other misos and is also called 'sweet white' or 'Kyoto-style' miso. The black & tan gomasio is a mix of regular and black sesame seeds and salt. I love the subtle flavor gomasio adds. It is used as often as salt and black pepper in our haus.
This recipe calls for mixed greens. You can use whatever greens you like most. I used a sweet mâche blend and added some radicchio. If you aren't planning to eat this salad right away, I recommend reserving some of the vinaigrette and adding it with the greens right before serving. This will prevent the delicate greens from wilting.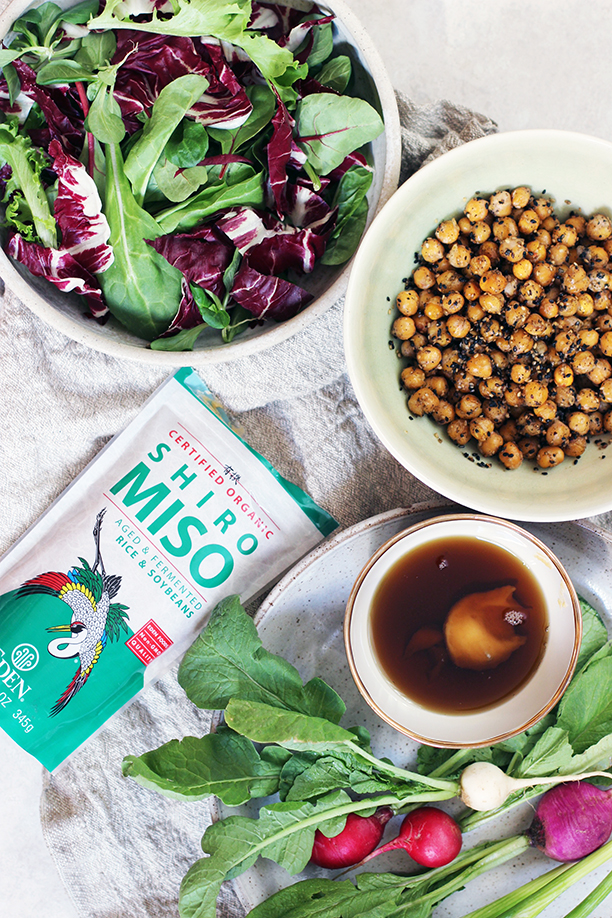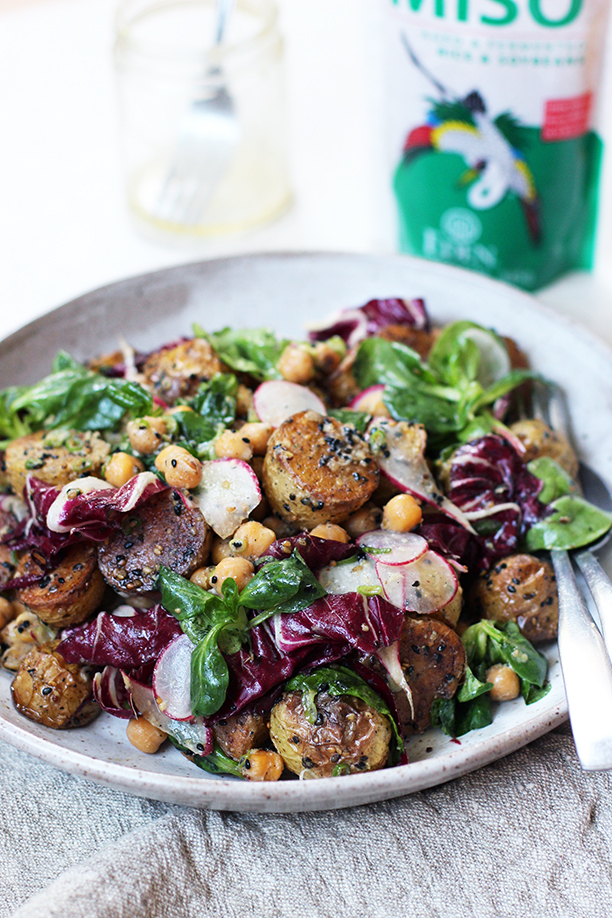 You guys, this is seriously the yummiest potato salad I've ever made. The roasted potatoes and chickpeas add a greater depth of flavor than a regular boiled potato salad, and this ginger-miso dressing is addicting. I want to put it on everything. I hope you enjoy this recipe as much as me and my husband did.
[This post was sponsored by Eden Foods. All thoughts and opinions are my own.]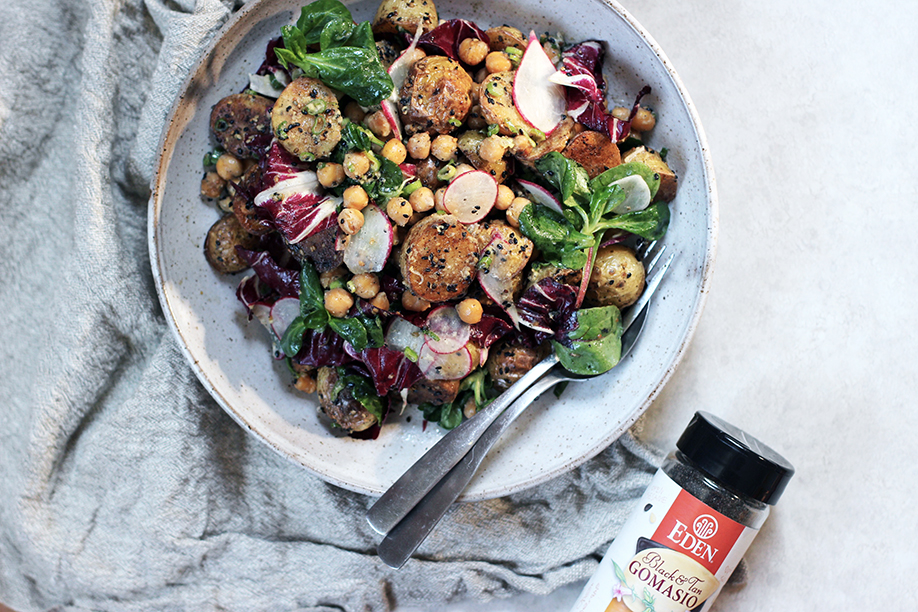 Gomasio Roasted Potato and Chickpea Salad with Ginger-Miso Vinaigrette
[Serves 4]
For the salad:
1 1/2 – 2 pounds of baby yellow potatoes
1 can Eden Foods Chickpeas
1/4 cup avocado oil (or any high-heat oil)
2 Tablespoons Eden Foods Black & Tan Gomasio, plus more to sprinkle
1/8 to 1/4 teaspoon cayenne pepper
1/2 teaspoon salt
2-3 cups mixed greens
3 scallions, thinly sliced
3-4 radishes, thinly sliced
For the vinaigrette:
2 Tablespoons olive oil
2 Tablespoons Eden Foods Shiro Miso
1 Tablespoon toasted sesame oil
1 Tablespoon rice vinegar
1 Tablespoon liquid amigos
1 Tablespoon water
1 teaspoon fresh grated ginger
Preheat the oven to 400°. Lightly whisk together the avocado oil, gomasio, cayenne and salt, and set aside.
Halve then rinse the potatoes. Spread them on a rimmed baking sheet. Drain and rinse the can of chickpeas then spend them on a rimmed baking sheet. Pour 2/3 of the avocado oil-gomasio marinade on the potatoes and the other 1/3 on the chickpeas. Using your hands, coat the potatoes and chickpeas with the marinade. Turn the potatoes so the flat side is down. Sprinkle some more gomasio on both the potatoes and the chickpeas.
Roast the chickpeas for 10 minutes, shaking the pan once halfway through cook time. Roast the potatoes for 20-25 minutes until golden brown, moving them around on the pan a couple times during roasting to prevent sticking. Once the potatoes and chickpeas are done, allow them to cool while you construct the rest of the salad.
Thinly slice the radishes and scallions, and set aside.
Whisk together all the vinaigrette ingredients and set aside.
Once the potatoes and chickpeas have cooled, toss all salad ingredients with the vinaigrette in a large serving bowl. Serve immediately.