Risotto is my ultimate comfort food. It's always my go-to dish to make when we have guests over for dinner. There's something so nourishing and complete about a bowl of risotto. I make it all times of year, as it can be customized for any season. Just start with the risotto base recipe below and switch up the add-in ingredients dependent on the season. As a general rule of thumb, I always roast or sauté add-in veggies separately and stir into the risotto at the end before serving. The only veggies I cook with the rice are shallots, onions, garlic and/or leeks, which I always include in every recipe. The key to great risotto is the broth and the seasoning. Be sure to use a high-quality broth that you love (homemade is best!), and make sure it's very hot as you add it to the skillet.
Here are some of my favorite seasonal risotto variations:
Summer: Zucchini, roasted sun gold tomatoes and basil // The recipe in this post
Fall: Chanterelle, leek and thyme // Butternut squash and sage
Winter: Brussel sprouts and cremini mushrooms // Cauliflower and dried cranberry
Spring: Lemon and asparagus // Leek and spring pea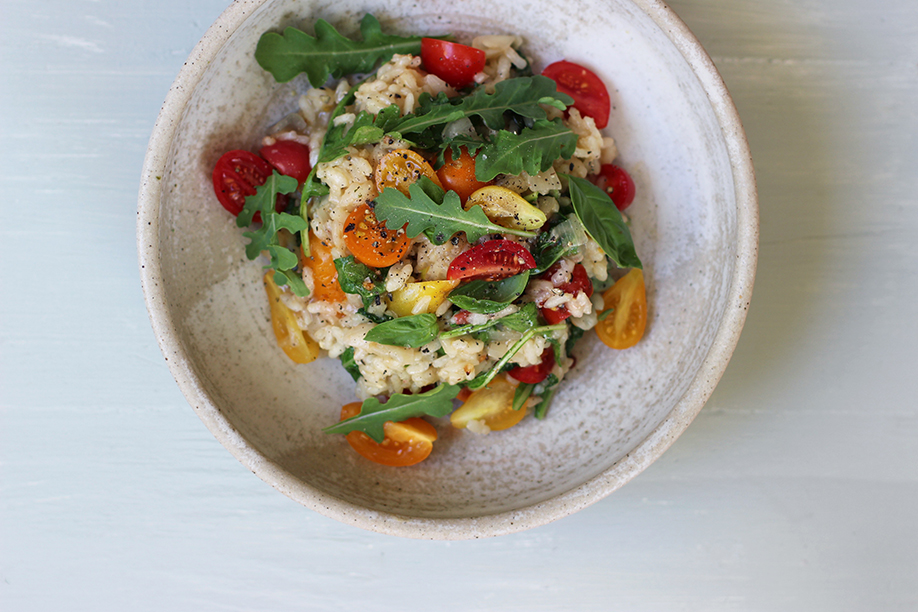 Fresh Tomato, Arugula and Basil Risotto
[Serves 4-6]
Risotto Base:
6-8 cups broth, veggie or chicken, (I used about 7 cups)
2 cups arborio rice
2 cups shallots, (onion, leek, etc.), diced medium
2 cloves garlic, minced
3 Tablespoons avocado oil, olive oil or butter
1 teaspoon salt
2 cups mixed cherry tomatoes, quartered and/or halved
1-2 handfuls arugula
1 small handful fresh basil
2 teaspoons red chili flakes
1 Tablespoon fine lemon zest
Lots of salt and black pepper
[Optional:] Grated parmesan cheese
Bring broth to a boil in a medium-size stock pot. Once boiling, lower heat to simmer.
In a wide, heavy skillet, heat oil or butter over medium heat then add shallots and salt. Sauté shallots for about 10 minutes, or until they are soft and starting to brown. Add garlic halfway through sauté time.
Add rice to shallots and garlic and toss to coat rice with oil. Stir rice into oil, shallots and garlic for about 45 seconds, making sure to not burn the rice. The outside of the rice should become translucent.
Begin adding the simmering broth a couple of ladlefuls (about 1 cup) at a time. The broth should just cover the rice and should be bubbling, not too slowly but not too quickly. Cook, stirring frequently, until the broth is absorbed. Add another ladleful or two of broth, and continue stirring in more broth when the rice is almost dry.
Season the risotto as it cooks. I usually add a teaspoon of salt and a generous amount of black pepper about halfway through cook time. If you are using salted broth, you may want to skip the salt.
When the rice is tender all the way through (about 25 minutes), it is done. Stir in the red chili flakes. Taste now and adjust seasoning, adding more salt, pepper and/or red chili flakes to taste. Add another ladleful of broth to the rice then stir in the tomatoes, arugula, basil and lemon zest.
The risotto should be creamy and wet looking. If it's not, add another ladleful of broth. Remove skillet from heat. If using, grate parmesan over individual servings and serve immediately.