I wasn't originally planning to post this recipe, but many of you reached out to me asking for it, so here it is! Super simple, healthy and delicious. The key to the crust is to be sure to squeeze out as much water as possible from the cauliflower before making the dough. I use a nut mylk bag, but a clean dish cloth or cheese cloth would work too. Something to keep in mind: This won't be like a traditional pizza crust, but it's still amazingly delicious. If you're looking for something more traditional, Bob's Red Mill makes a great gluten-free pizza crust mix that can be made vegan.
Oh! And another amazing thing about this pizza is this vegan cashew- and coconut-based cheeze that melts and browns from Miyoko's Kitchen. It's seriously so good. I didn't think I could be so impressed with a vegan melting cheeze. I haven't had the chance to try any of their other products, but if you have, I would love to know what you think.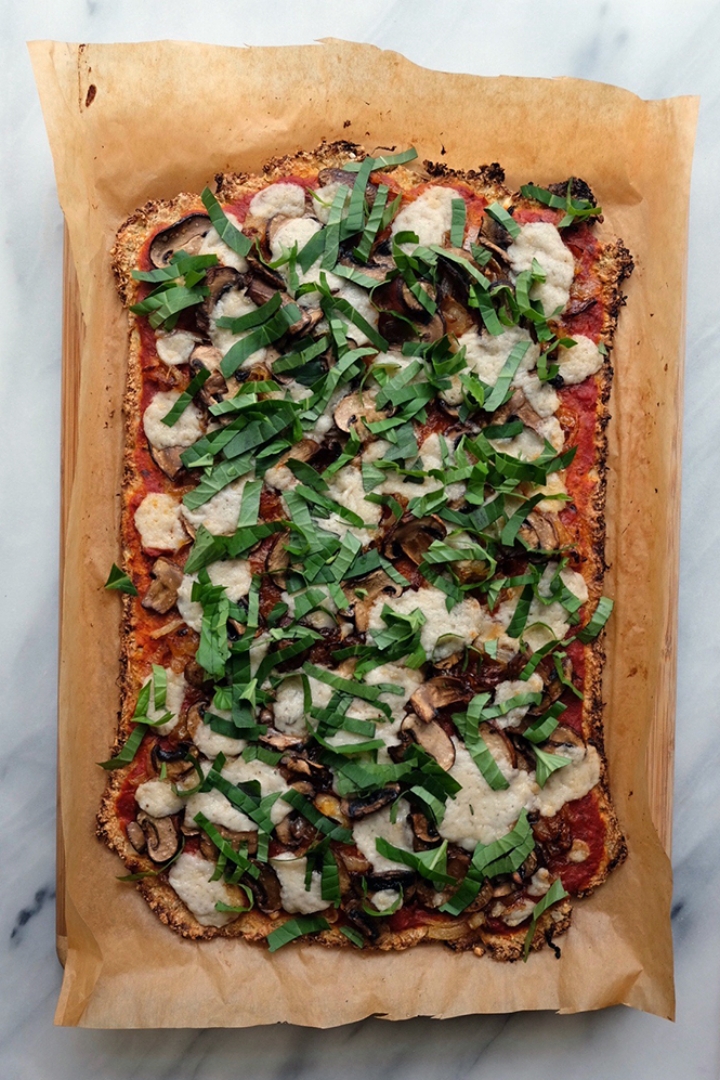 Herbed Cauliflower Pizza Crust
[Makes 1 large crust]
1 large head of cauliflower, cut into florets
5 Tablespoons ground flax seed
2/3 cup water
3/4 cup almond meal or nut flour (I used homemade brazil nut flour)
1 Tablespoon herbs de Provence
1 teaspoon salt
1/2 teaspoon black pepper
Preheat oven to 450° with pizza stone if using.
Whisk together ground flax and water until well combined. Allow to chill in the refrigerator for about 20 minutes.
Steam cauliflower florets until tender. Drain from water and rinse with cold water. Place florets in nut mylk bag, dish towel or cheesecloth, and squeeze out as much water as possible from cauliflower.
Transfer drained cauliflower to a large bowl. Using a potato masher or fork, mash cauliflower to desired consistency. You could also use a food processor or high-speed blender if you want a finer texture.
Add nut flour or almond meal, flax mixture, herbs, salt and pepper to cauliflower. Using a rubber spatula, mix until well combined and a ball of dough forms easily.
Roll out dough between 2 sheets of parchment paper to about 2/3″ thickness. Transfer rolled out dough to a pizza stone or to a parchment-lined baking sheet. Bake in preheated oven for 25 minutes until dough is lightly browned.
After par-baking, top pizza with sauce and your favorite toppings. Bake for an additional 10-12 minutes, and enjoy!