All the greens for St. Patrick's Day! If you've never used sorrel before, this recipe is a great intro. Usually sorrel is green, so likely your pesto will be green. I found this very beautiful variety of red-veined sorrel at the farmers market here in Portland, so that's why mine is a purply hue. Either way, it's delicious. Sorrel is a tangy, lemony herb. It has a very bright taste and reminds me of spring. Sorrel is packed with vitamins A and C, which are great for boosting immunity. This pesto would also be a great addition to your morning eggs or mixed in with your favorite grain (rice, quinoa, millet).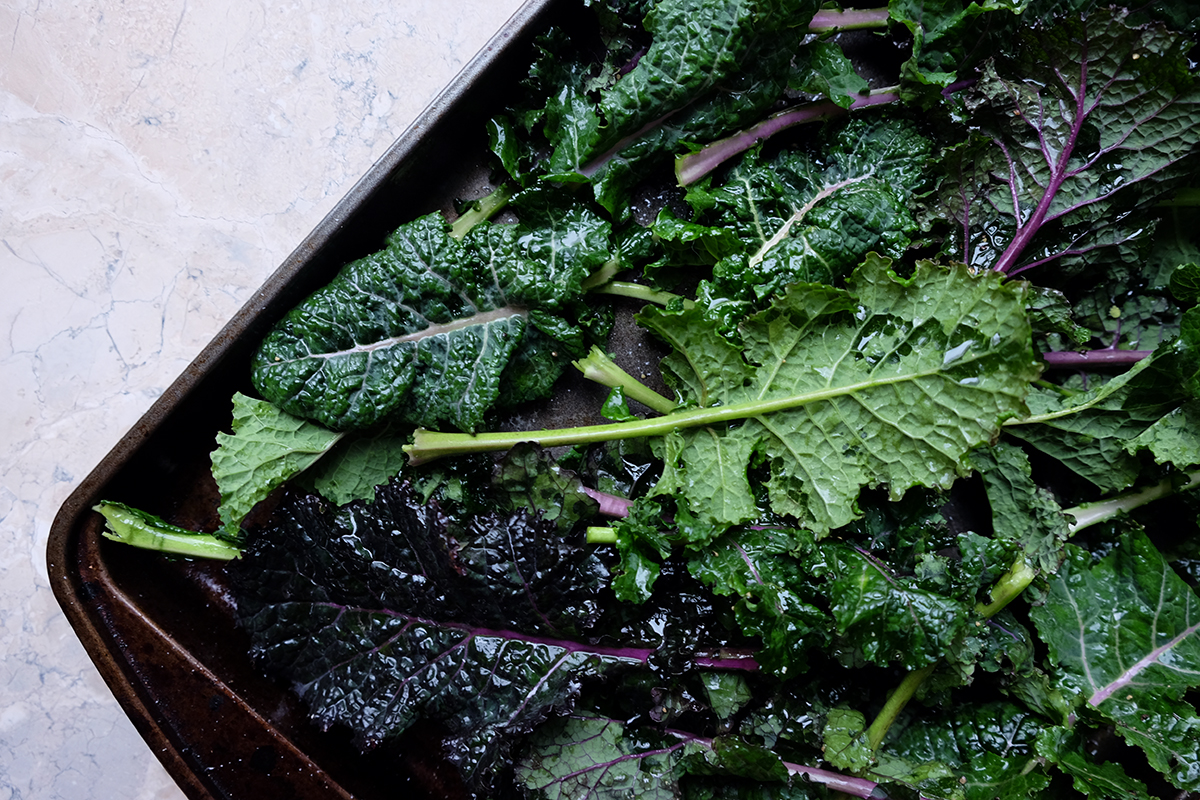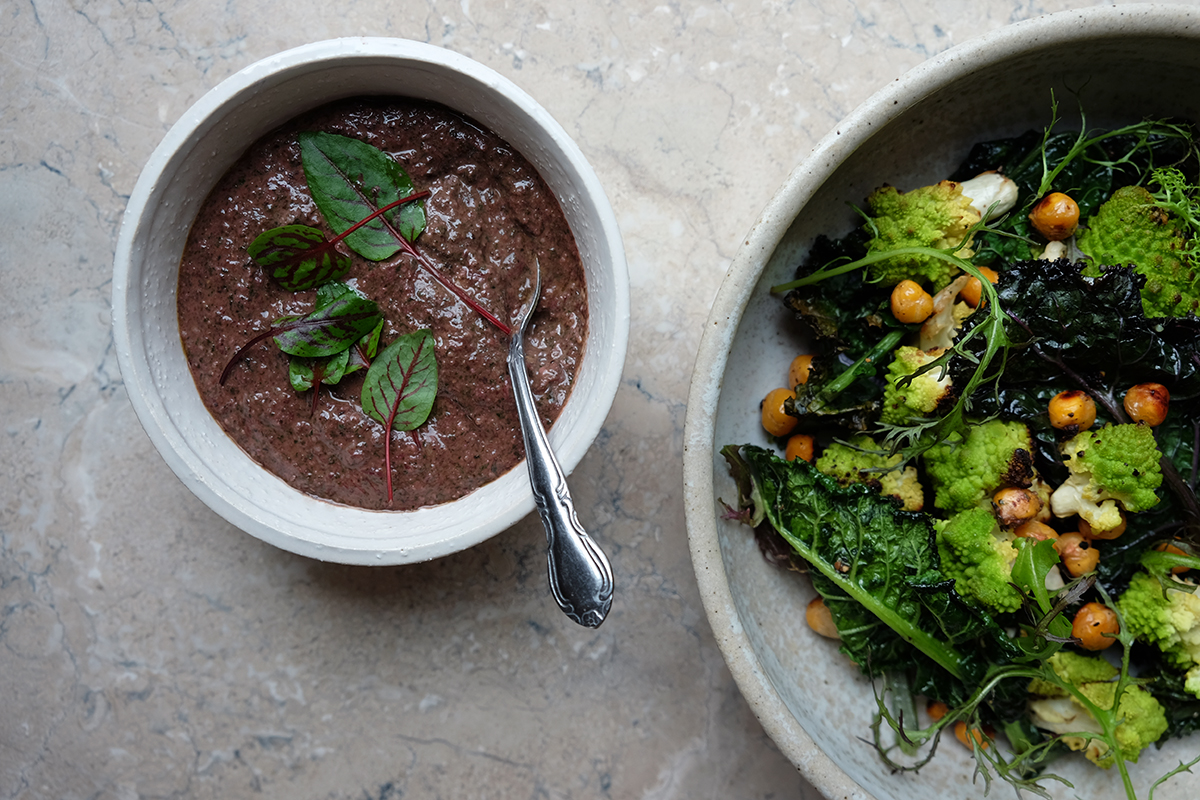 This dish would be amazing with non-dairy or regular ricotta. I skipped it this time, but I've made this same meal with the ricotta addition, and it's outstanding. I love this brand of almond mylk ricotta. I'm in the early phases of developing a vegan cheese and will definitely be sharing that recipe once I've perfected it. Vegan cheeses really have come a long way since the early days of plastic-y soy cheese. It's so nice to be able to actually enjoy plant-based cheeses.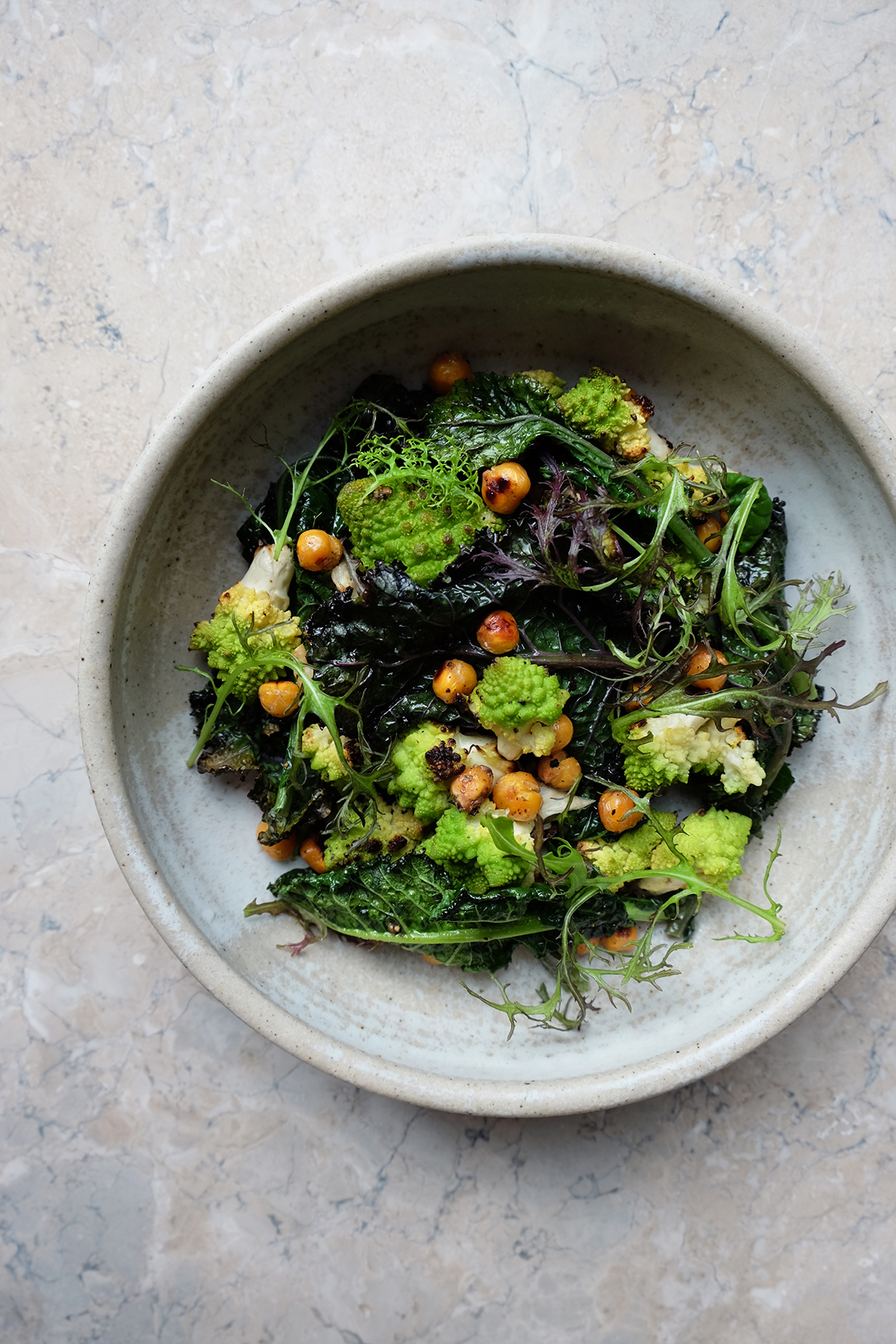 Roasted Kale, Romanesco and Chickpeas with Sorrel Sunflower Pesto
[Serves 2-4]
1 head romanesco, cut into florets
1 15 oz can chickpeas
1 bunch kale
2 Tablespoons avocado oil
Juice from 1 lemon
Salt + pepper, to taste
To garnish: lemon slices, non-dairy or regular ricotta cheese (optional)
For the pesto:
3 cups sorrel
1/2 cup extra-virgin olive oil
1/3 cup sunflower seeds
2 Tablespoons lemon juice
1 clove garlic
Salt + pepper, to taste
Preheat oven to 400° F. On a rimmed baking sheet, spread romanesco florets and chickpeas. Before roasting, toss with 1 Tablespoon of avocado oil, juice from 1/2 a lemon, salt and pepper. Roast for 12-15 minutes.
Toss kale with 1 Tablespoon avocado oil, juice from 1/2 a lemon, salt and pepper. Spread kale out on a separate rimmed baking sheet, and roast in the oven for 5-10 minutes until kale is wilted and a bit crispy.
Make pesto by blending all ingredients in a high-speed blender on medium-high for about 1-2 minutes, or until well combined.
Toss kale with chickpeas and romanesco. Dollop a generous helping of pesto on each serving. Do the same with the ricotta, if using. Serve with a lemon slice. Enjoy!