It's no secret that I have an obsession with chia seed pudding parfaits. Just take a look through my Instagram feed for proof. The flavor possibilities for these things are endless. I love dreaming up new combinations (and testing them out on my husband). This one features an avocado-coconut-lime blend layered between a mixed blue and black berry chia pudding. The combination of berries and tart lime with coconut is unexplainable delicious. Literally my mouth is watering just thinking about it.
If you've never cut open a fresh young coconut, I highly suggest watching a few YouTube videos, like this one, before attempting on your own. It should be relatively easy after you get the hang of it, but it's also easy to feel intimidated by the whole thing at first. There really is nothing better than drinking the coconut water that comes from these young coconuts. I buy them often for recipes like this one and to blend into our morning smoothies.
I love the crunchy raw granola topping, but you could also top this with cacao nibs, regular granola or anything else you like that crunches. Fresh blueberries and banana add to the smoothness of the avocado-coconut-lime blend. I could seriously eat this everyday and never get sick of it. Stay tuned for more chia seed pudding parfait recipes! And if you have suggestions, or any ingredients you would like to see me work with, please leave a comment below.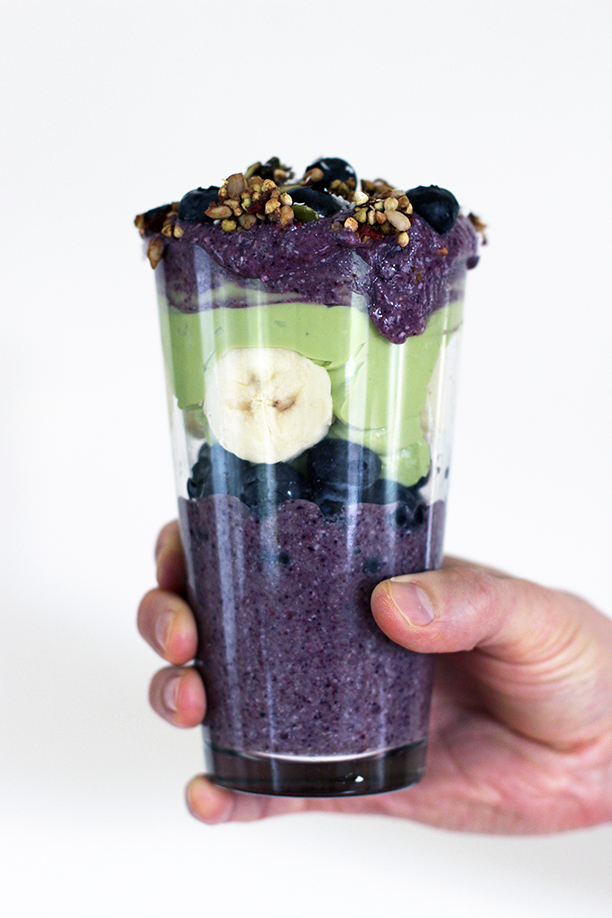 Berry Coconut Chia Parfaits
[Makes 2]
Berry Chia Pudding Layer
2 Tablespoons chia seeds
6 Tablespoons coconut (or any other nut, soy or hemp) milk
2 handfuls (about 1 cup) of a mix of blueberries, blackberries and black raspberries (I use this blend)
3 Tablespoons dried coconut
a small amount of the young coconut water (or nut milk) to get the mixture blended in a high-speed blender
Avocado-Coconut-Lime Layer
1-2 ripe avocados
1 fresh young coconut (or you can substitute 1-2 Tablespoons of coconut oil)
2-3 limes, depending on your taste
1-2 Tablespoons of maple syrup (optional)
a pinch of salt
Optional Toppings
Fresh berries
Sliced bananas
Dried coconut
Granola
Bee Pollen
Mix the chia seeds and nut milk together in a bowl with a cover. Chill in the refrigerator for at least a couple of hours, overnight is best.
Open the young coconut. Pour the coconut water into a glass or jar for drinking later. Scrape out the coconut meat and add to high-speed blender along with the avocado(s), juice from 2-3 limes, maple syrup and a pinch of salt. Blend on medium until smooth.
Put the chia pudding, berries and dried coconut into a high-speed blender. Blend on medium until smooth. You may need to add extra coconut water (or nut milk) to get the blender going. Pour contents of blender into a bowl and set aside.
Layer the berry pudding with the avocado-coconut-lime mixture. Top with fresh berries, granola or any of your favorite toppings.