Asian-inspired noodle dishes are one of my favorite things to make and eat. This meal is quick and relatively easy, perfect for a mid-week dinner. I use a version of this spicy baked tofu in many dishes. It works well in rice dishes, as well as salads. The sesame-cashew butter sauce is so simple and delicious. I found this brand of cashew butter that is made locally here in Portland. It is spiced with Harissa. If you don't use this brand, you could play around with adding some spices to your sauce. If you come up with any great additions, I would love to hear about them.
[Note:] I never boil rice noodles, as I think they tend to get overcooked really easily. Soaking the noodles in tepid water allows them to rehydrate before finishing in a skillet. I find this method is easy and keeps the noodles from getting mushy.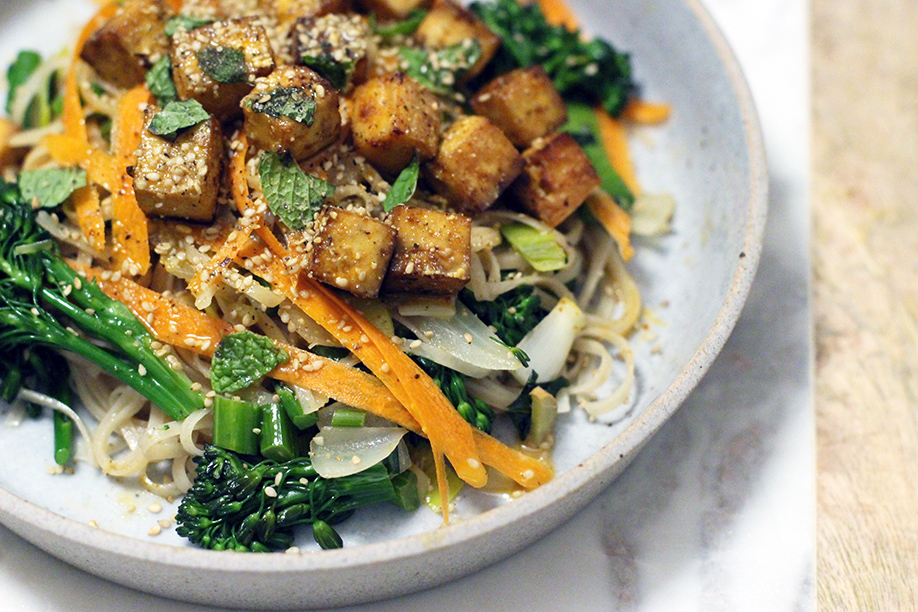 Sesame Noodles with Spicy Baked Tofu and Broccolini
[Serves 2-3]
1 package brown rice noodles (I use these)
1 package super firm tofu (I use this brand)
1 bunch broccolini, chopped
1/2 of a medium onion, diced
1 leek, cut into half moons
2″ piece of ginger, minced
3-4 tablespoons coconut oil
3 tablespoons + 2 teaspoons liquid aminos or Tamari
1 tablespoon Sriracha
2 tablespoons sesame oil
1 tablespoon cashew butter, or any other kind of nut butter
1 carrot, peeled into ribbons
2 sprigs of fresh mint, chopped
sesame seeds or gomasio to garnish
Put noodles in large bowl and cover with tepid water. Let soak while preparing the rest of the meal.
Preheat oven to 400° and line a baking sheet with parchment paper. Cut the tofu into bite-size cubes and toss with 1 tablespoon of the coconut oil, 3 tablespoons of the aminos and Sriracha. Bake for 30-35 minutes, turning the tofu over 1-2 times during baking.
Melt 2-3 tablespoons of coconut oil in a large skillet over medium heat. Add the onion, leek and ginger, season with sea salt and sauté for about 10 minutes or until onions begin to get soft. Add the broccolini and continue to sauté for another 5-10 minutes.
While veggies are cooking, whisk the sesame oil and the cashew butter in a small bowl until combined. You can add a small amount of hot water if necessary to allow the nut butter to mix more easily.
Check on the noodles to see if they are ready. They should be tender, but not mushy. Drain them from the water and add to the skillet with the veggies. Add 2 teaspoons of aminos to the skillet to coat the noodles. You can also add a small amount of sesame oil if you feel like the noddles are too dry. Stir fry on medium/high heat until the noddles are tender.
Serve noodles in bowls with tofu and carrot ribbons on top. Pour some of the sesame and cashew butter sauce over each serving. Garnish with mint and sesame seeds or gomasio.