It's here! I am so excited to officially release Wu Haus Candle 01, the first of a three-part series with some amazingly talented artists and friends. For this month's release, I've partnered with Kelly Harland of CROSBY Elements and ceramic artist Justin Caraco to create a candle that will fill your space with springtime vibes and provide a beautiful vessel to enjoy long after the candle is finished burning. Only 100 of these limited-release candles were created, so be sure to purchase one before they're all gone!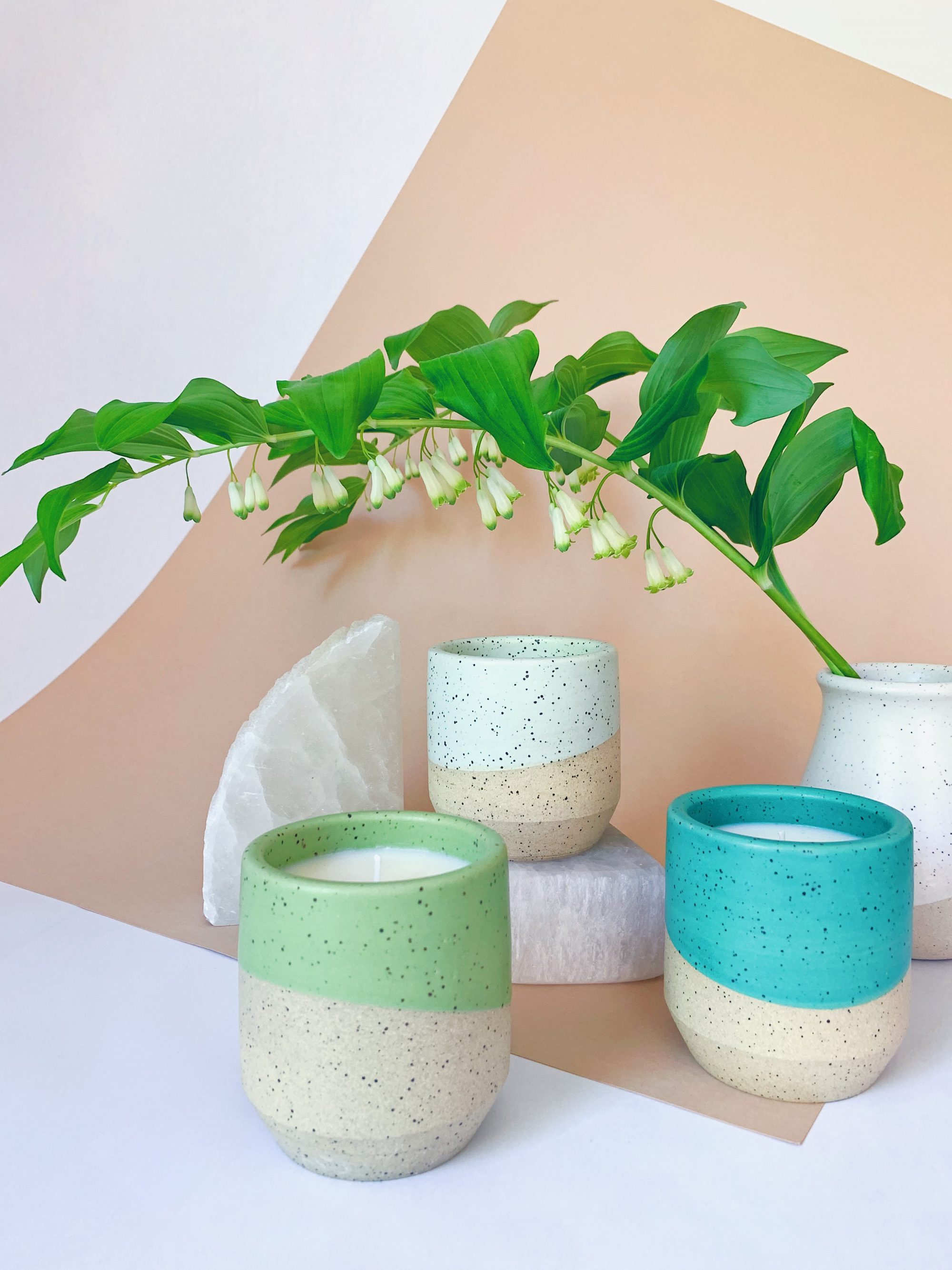 Last week, I shared how I met Kelly and her journey of becoming a storyteller through scent. Together, we worked with Justin to create a fresh + herbaceous candle that draws inspiration from not only the energy and fragrance of the spring season, but also from Justin's background working in the kitchen in some of my favorite Portland restaurants, Ava Gene's and Tusk. With scent notes of basil, ginger, black peppercorn, arugula, cedarwood and white birch, here's how Kelly describes her approach to creating the first candle scent:
"This one was really driven by three parts: Justin as a person, his creative background via ceramics and food, and the candle's springtime launch. It made sense to do something more herbal and citrus-forward, and also nice to ground those scents with something a little more woody and masculine."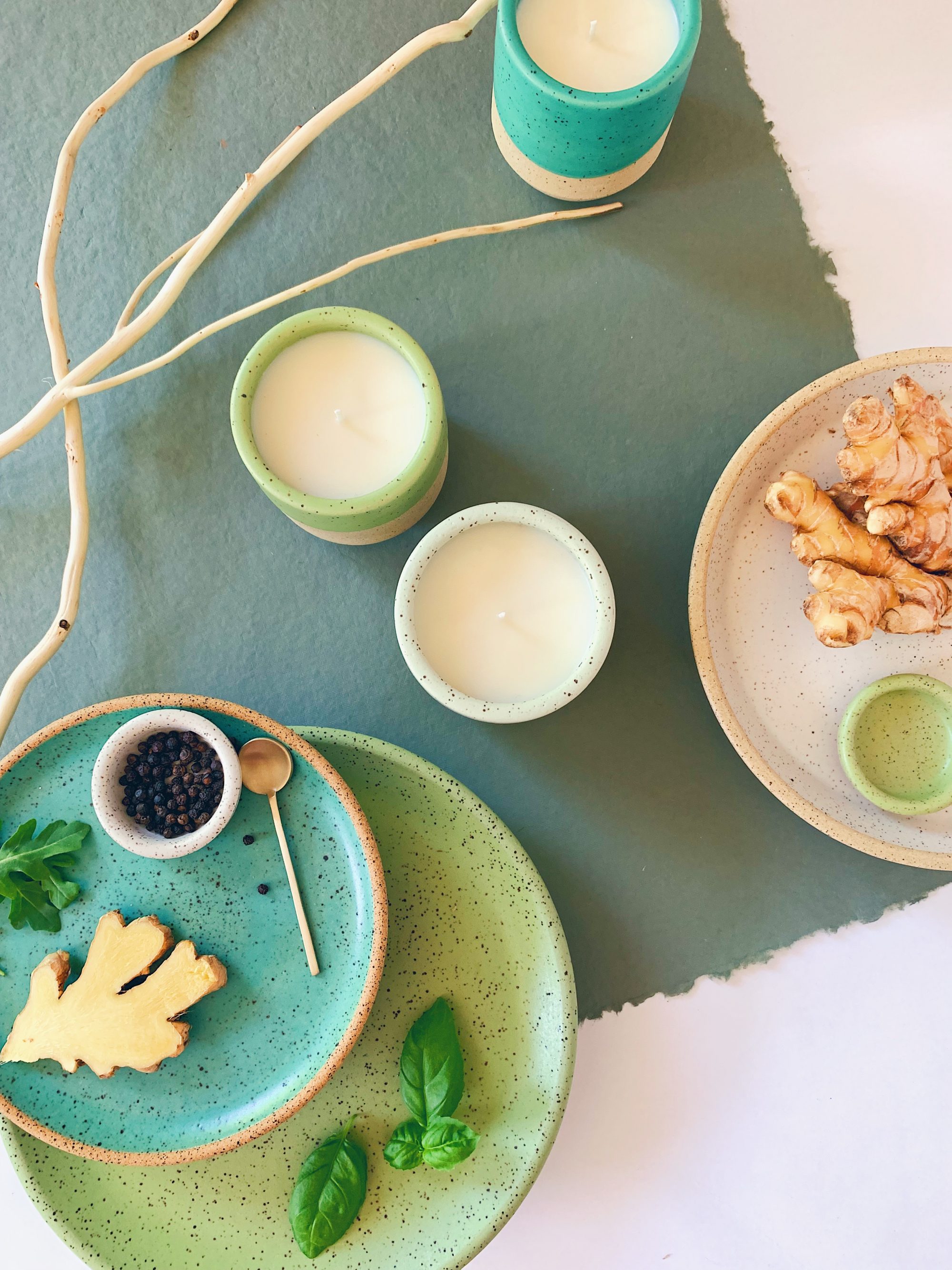 I first became acquainted with Justin's work when collaborating with Shannon Sims of Food Art Love on a snack board photoshoot. I was immediately drawn to his pieces that she'd borrowed for the shoot, and eventually connected with him directly about purchasing some of his work. I love his use of color and texture, and how his pieces manage to find the perfect balance between playfulness and sophistication.
He was still working at Tusk at the time, and it was clear that this side project of his had the potential to become so much more. It has been great to watch his business grow and see him take on ceramics full-time. Working with him on this project has been such a dream, and I'm so thrilled for those of you who get to keep a piece of his art and make it become part of your home and story.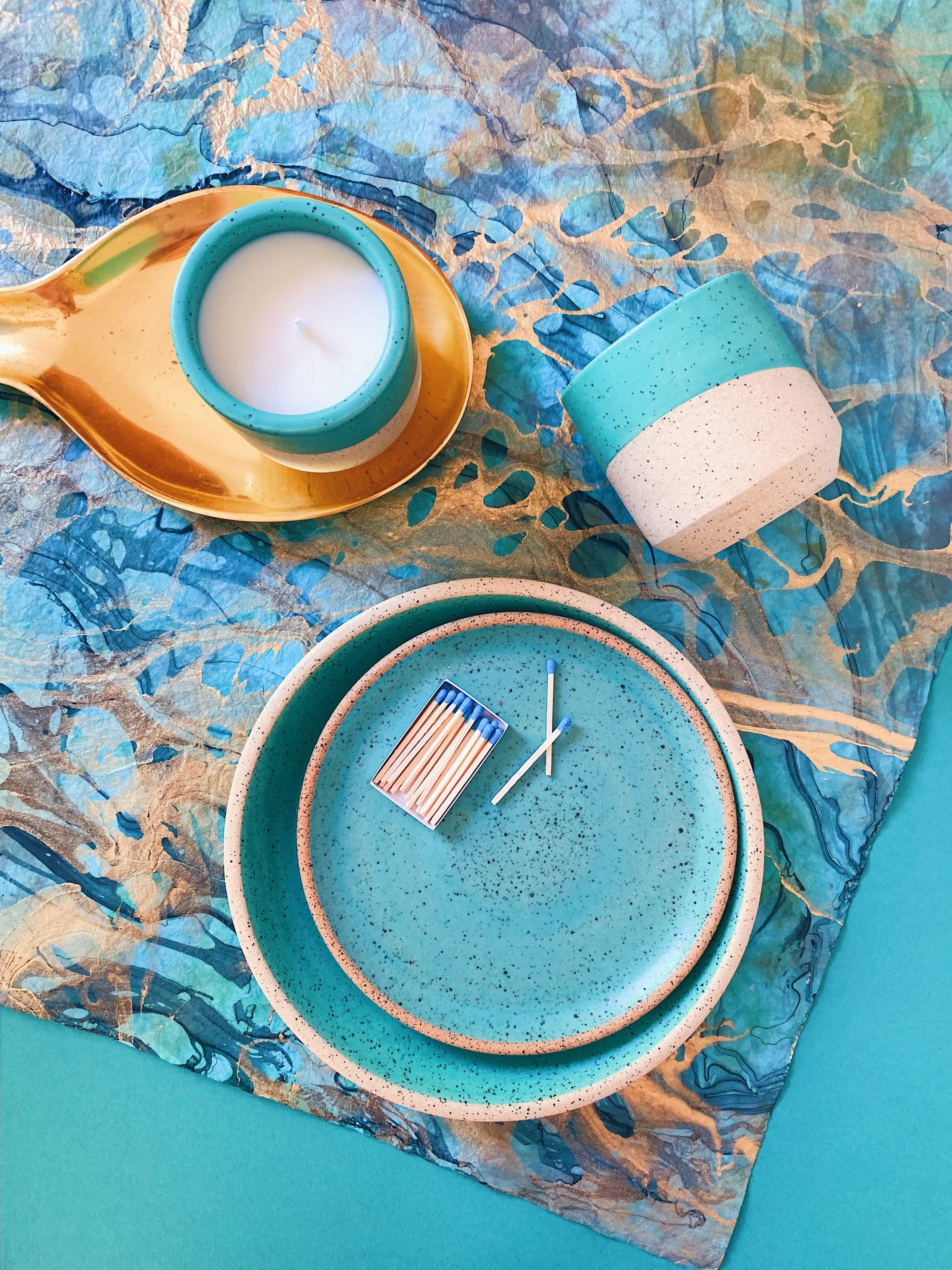 Here's more about Justin's story:
Wu Haus: How did you start your business?
Justin Caraco: I started doing ceramics in high school. I originally got into it because of my dad, who was a ceramics and art teacher. He taught me, and I'd use his studio as a teenager. I gave it up like most interests I had as a teenager. I'd been thinking about getting back into it for a long time, and about 5 years ago I bought a ceramics wheel on Craigslist. It was kind of an impulse buy, and I didn't use it for a year. I'd been a chef for 15 years, and was working at one restaurant that was opening another restaurant where they wanted to bring me over. There were construction setbacks, so I took off a few weeks, which turned into a few months. That's when I started using the wheel. When the new restaurant opened, the chef and owners wanted my work in there. So I started making things for that restaurant. A lot of my dishes at Tusk are used for hummus and desserts, as well as for garnishes. A lot of my work has been mostly dinnerware and planters. About two and a half years ago, I quit cooking to focus on ceramics.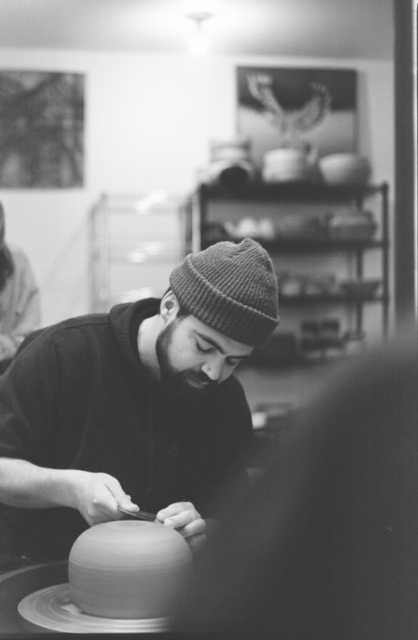 WH: What are your influences?
JC: Definitely other ceramicists, both local and commercial names that are well-known. I'm inspired by a lot of their glazework. There are so many great ceramicists in Portland. [Tusk] had already been using other artists in town that are an inspiration. I saw the different clays and materials they were working with, which helped me create my own taste and style. I knew what I was using in the restaurant and knew what styles I wanted to see and work with. That's why I started making things – I wanted to make them for food.
WH: How would you describe your style?
JC: I like to have a lot of clean glazes, a lot of simple colors, a lot of matte. I'm not glossy. I like my work to resemble what I see in nature. I like to show raw clay in the body. A lot of my work has speckles in it, which comes from the properties in the clay I use, like manganese. I also do marbled work with mixed clays. It's all wheel work, except for the handles on mugs that I hand-make.
WH: What was your process for the Wu Haus collaboration?
JC: I used two different clays – a greyish-white clay with tannish speckled clay to get a grey speckled clay. We went over some shades and glazes and picked out the colors together. Since she's doing a basil scent, I thought shades of green would go well with it. One's teal, one's grassy, and one's light pastel.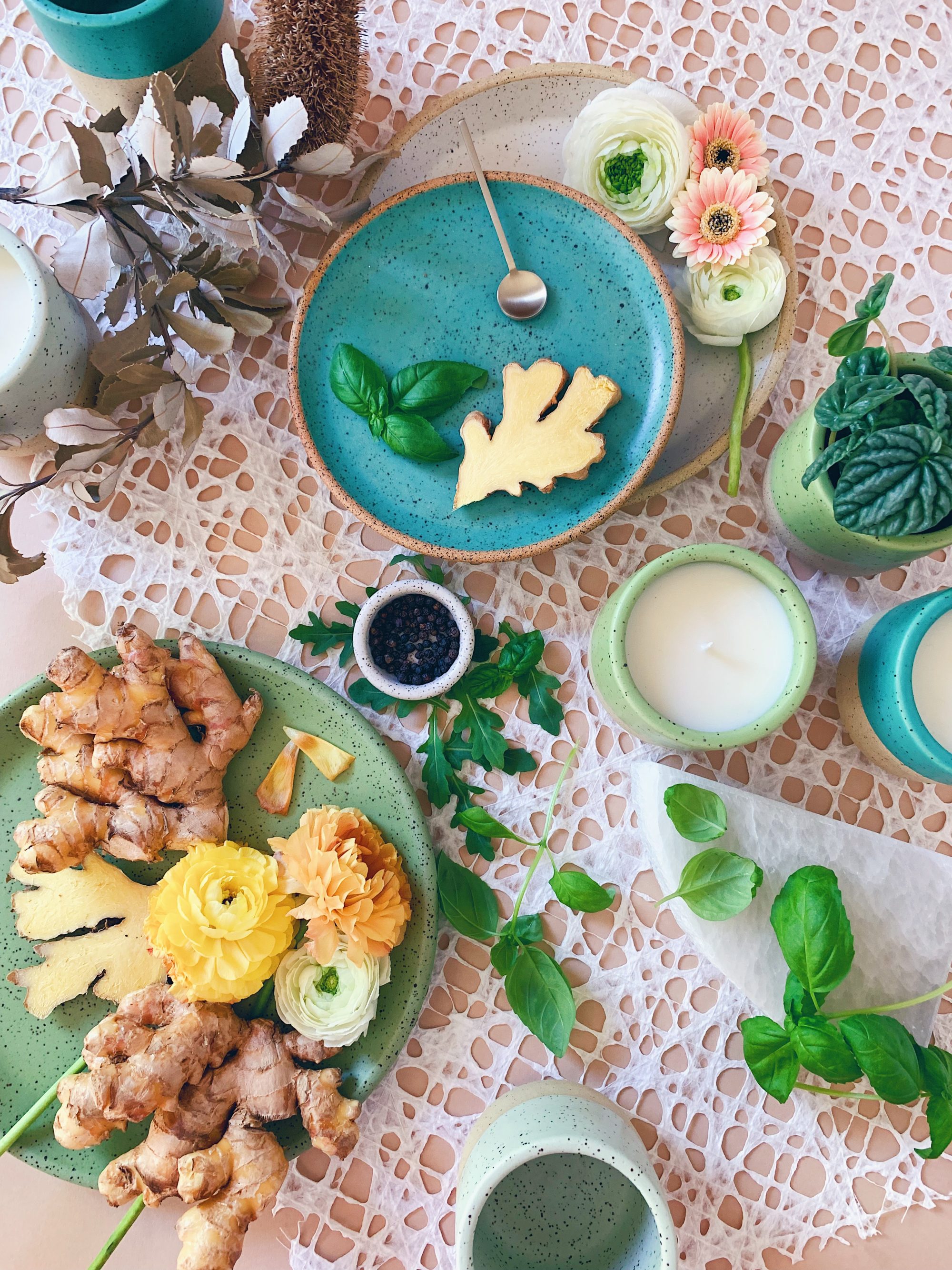 WH: What's your inspiration when creating pieces?
JC: I get a lot of inspiration from living in the Pacific Northwest and going hiking. Whether it's from trees, plants or rocks, it's the colors I see. I relate my work to the colors of the season. In the spring, I use a lot of pastels. In the fall, I'll use burnt orange and reds. Even the grey skies inspire me. I'll show that in the clay body, and then top it with a bit of color, like the colors that pop up around here.
I've also been a passionate skateboarder all my life, and I draw huge inspiration of style and aesthetic from my favorite skateboarders. They always put an emphasis on their tricks looking right, proper and with finesse. It's about paying attention to the details and focusing on form, technique and style as the most important. It's also about  limiting what you put out and not trying to do too much. It's kind of silly, but it relates to my approach with my art.
WH: What do you love about candles?
JC: I think it's another way to enhance a space. It's been really cool doing this project, because it enhances a space through multiple senses. You get an object that's cool-looking rather than just a glass jar, and it's something you can associate with that scent.