Wu Haus Candle 03 is a collaboration with Kelly Crosby of CROSBY Elements and ceramic artist Fernando Aciar of fefo studio. Only a limited supply is available; get yours here.
I can hardly believe that it's already time to release the third and final Wu Haus Candle! These have been such a long-time dream of mine to create, and I am so fortunate to be able to collaborate with artists with so much talent, passion, and willingness to explore and play.
Each candle has been so different from the other, even within a release. That's the true beauty of handmade goods; every piece has its own story, from the time it was thrown on the wheel to an untold future. Every time you light your Wu Haus candle or sip from its vessel, I hope you take time to honor and recognize the journey it took to get to you – how it was shaped by the hands of a ceramic artist, poured by a scent storyteller and packaged by yours truly.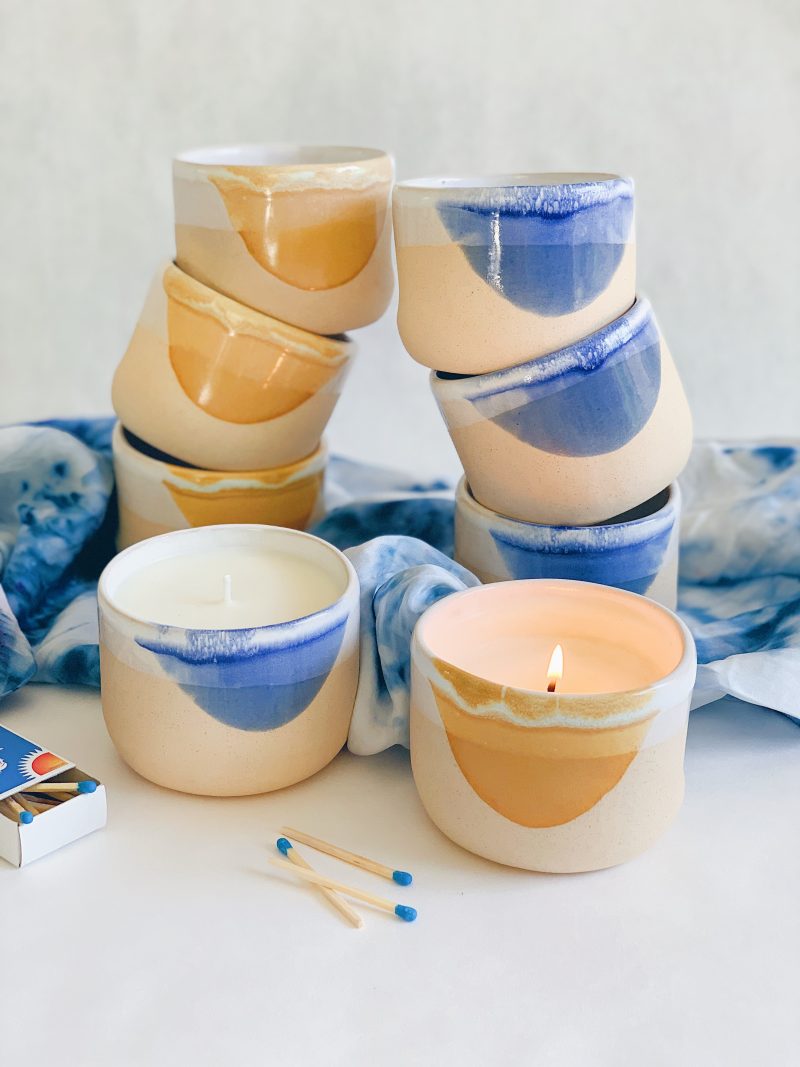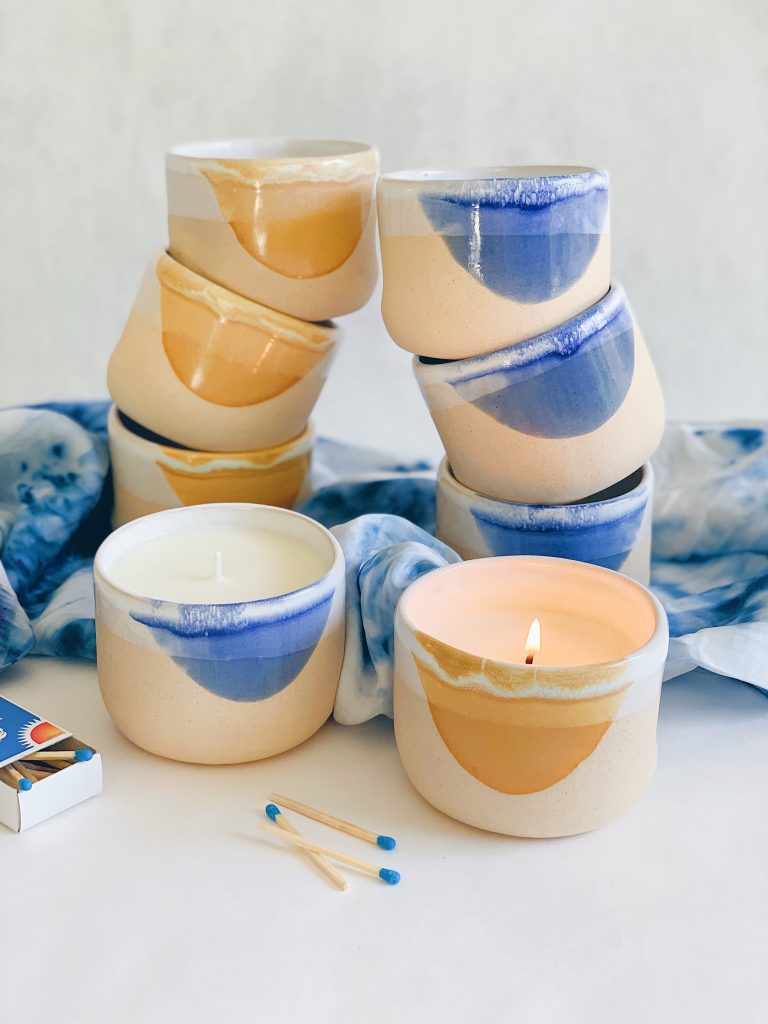 For Candle 03, Kelly Crosby of CROSBY Elements and I took inspiration from the Oregon coast to create a woodsy, masculine yet equally soft scent that I can't get enough of. With scent notes of tobacco, Himalayan cedar, bergamot, frankincense, amber, oud and patchouli, this candle is reminiscent of late summer and time spent outside amongst the trees. It reminds me of the last camping trips of the season, spending time in the forest and cozying around a campfire after the sun magically sets and the night sky fills with stars. I love spending this time in nature, hiking and walking along the Pacific Northwest coastline, reflecting on the beauty of summer and looking forward to what another fall equinox brings.
The vessel for Candle 03 is the work of amazing artist and dear friend Fernando Aciar of fefo Studio. Fernando is an Argentinian chef-turned-ceramic artist, a warm and welcoming person who's inspiring to be around and a super passionate creative.
I first met Fernando while working on the menu for the Houston restaurant, Vibrant. As I dreamed up the restaurant menu, I also dreamed of what ceramics would look and work best with each dish. Fernando brought that vision to life and created a gorgeous collection of custom ceramics for the restaurant. We kept in touch and were able to reconnect when I returned to Houston to train the staff and chef on the menu. Fernando is the owner of New York-based OCafe, and was starting-up Vibrant's coffee program and training their staff on the machines. We got to know each other better during our time in Houston, bonding over our shared love for food and desire to create.
For Candle 03, I wanted to incorporate Fernando's organic style to round out the series. I love how he uses pops of color on his organic shapes, using them sparingly on these earthy, yet sophisticated pieces. Fernando's work is in demand internationally, and I'm so grateful to have collaborated with him on a project that means so much to me.
Here's more about Fernando and his work:
Wu Haus: How did you start in ceramics?
Fernando Aciar: After I closed a juice bar, I felt that I needed to go back to cooking – what I was doing before. It was hands-on, not just building a business and creating a new concept, but making it. There's a school across the street in the Village, and my wife gave me [a semester there] for a Christmas present. I had the idea to start making cups….I realized that I loved being there, doing that, and I found myself – 20 hours a week – going to the studio. I realized that it had to be a business, because it was taking so much of my attention.
I had a friend who invited me to make a plate and do tablework for a fashion show. That commission became over 1,000 pieces within a month. The manager of the school where I was [attending] gave me the push to go and grow. The rest of the story is I've been doing [ceramics] for restaurants, for architects, for fashion shows. I'm about to fly to France because I'm doing lamps for a new hotel that's opening in Nîmes.
WH: What techniques do you use?
FA: I like a lot of hand-building, which is using the slab, and I love to make molds. I like natural shapes and a lot of structured, more architectural shapes. More art deco lines. I use color as a graphic element…. I always keep playing with solid color, and my signature is the sunset – a half-circle. Everything has a connection when it comes to whatever I do. You try to bring the same DNA. Even if it's a new concept, it's the same person. It's me.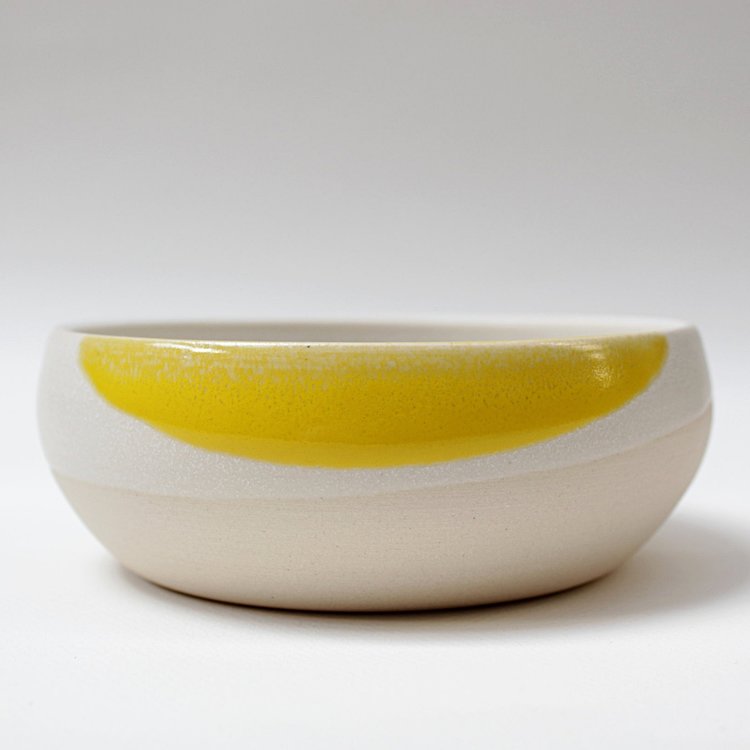 WH: Where do you draw your inspiration from?
FA: I'm inspired by very simple things. I go to a container store and I see a shape, and I see a shape that's going to be a lamp. I can be at a museum and see a drawing, and I [flip that drawing upside down]. Now it's going to be a vessel, or a cup. I don't follow ceramicists. I try to not get inspired by other ceramists, because it's easy to fall into the same thing. I try to keep my own way of seeing things. Half of everything that I create comes from something broken, or something that went wrong. That came from cooking. You recycle everything, you transform. That happened to me with ceramics. If something breaks, I don't get mad – it becomes something new.
WH: What was your process for the Wu Haus collaboration?
FA: [Alison and I] were having a glass of wine in Houston. It was a very hot, humid day, and we were talking about the candles. She was telling me that she wanted to do a line, and I said I'd love to collaborate. Eight months later, we were still talking about it. I have these [style of] cups, and she picked the colors – sand and blue. They're the size for a matcha latte or any latte, and they fit the hand. They are an extension of your body. They're not square, but organic shaped.
I also have a candle line, so I thought it was a beautiful thing to do a cup that can be reused. I often work with different artists; I have a chocolate bar that I do with a friend who's a graphic designer. We collaborate in the ways that we have passion.
WH: What do you love about candles?
FA: I love light. It comes from there. In my house, we have to have candles all over. I love perfumes. I make my own perfumes and I love natural essential oils. We're in this new era of handmade candles and I'm very into it. I like the light that the candle gives us at home. Or any environment. I'm a cook, so I appreciate a dinner with candles. It makes the whole experience different.